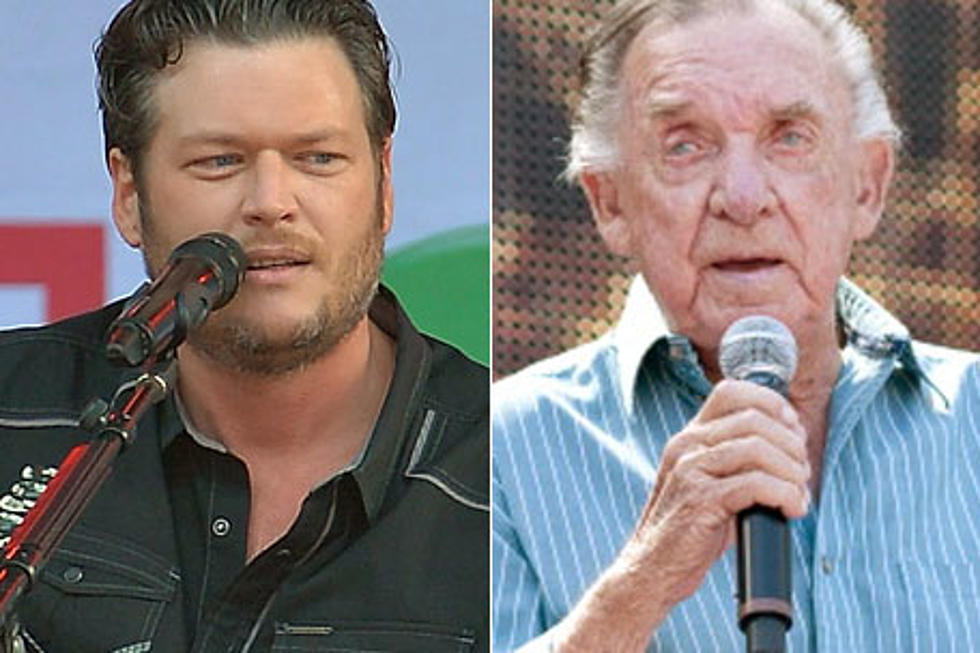 Blake Shelton, Ray Price Debate Over 'Old Fart' Country Music
Getty Images/Redferns
Blake Shelton has always fashioned himself a country music historian, with a deep knowledge of the genre's history and respect for those who paved the way for him to become a country music superstar. For the most part, his music has remained country-to-the-core, and he frequently covers classic country songs in his live shows, most of them dating back to before he was born. Ask "The Voice" coach about the highlight of his illustrious career, and ten times out of ten he will answer that it was his induction into the Grand Ole Opry. So, many were surprised by comments Blake made on GAC's "Backstory: Blake Shelton," when discussing his 2010 win for CMA Male Vocalist of the Year.
"If I am 'Male Vocalist of the Year' that must mean that I'm one of those people now that gets to decide if it moves forward and if it moves on," said the 36-year-old singer. "Country music has to evolve in order to survive. Nobody wants to listen to their grandpa's music. And I don't care how many of these old farts around Nashville going, 'My God, that ain't country!' Well that's because you don't buy records anymore, jackass. The kids do, and they don't want to buy the music you were buying."
Much to Blake's dismay, those comments offended one of his musical heroes, Ray Price. The 87-year-old country legend, known for such hits as "Heartaches by the Number," "For the Good Times" and "Release Me," took to his Facebook page to vent.
"It's a shame that I have spend 63 years in this business trying to introduce music to a larger audience and to make it easier for the younger artists who are coming behind me. Every now and then some young artist will record a rock and roll type song, have a hit first time out with kids only. This is why you see stars come with a few hits only and then just fade away believing they are God's answer to the world. This guy sounds like in his own mind that his head is so large no hat ever made will fit him. Stupidity Reigns Supreme!!!!!!! Ray Price (CHIEF "OLD FART" & JACKASS") " P.S. YOU SHOULD BE SO LUCKY AS US OLD-TIMERS. CHECK BACK IN 63 YEARS (THE YEAR 2075) AND LET US KNOW HOW YOUR NAME AND YOUR MUSIC WILL BE REMEMBERED."
Clearly saddened that his words had offended, Blake took to Twitter to explain himself, apologizing to "one of my all time favorite artists, Ray Price." In further tweets, the Oklahoma native then tried to explain what he really meant by his controversial words.
"The truth is my statement was and STILL is about how we as the new generation of country artists have to keep re-inventing country music to keep it popular. Just EXACTLY the way Mr. Price did along his journey as a mainstream country artist. Pushing the boundaries with his records. 'For The Good Times' is a perfect example with the introduction of a bigger orchestrated sound in country music. It was new and awesome!!! I absolutely have no doubt I could have worded it better (as always ha!) and I apologize to Mr. Price and any other heroes of mine that it may offended. I meant every word I said. Country music is my life and its future AND past is important to me. I'll put my love and respect and knowledge about it up against anybody out there... ANYBODY..."
Ray has yet to respond publicly to Blake's apology. What do you think -- were Blake's comments offensive or justified? Let us know in the 'Add a Comment' section below.
Watch Blake Shelton's 'Over' Video
Watch Ray Price Perform 'For the Good Times' on the Opry