Big & Rich – CRS Humanitarian Award Honors Duo for Tireless Charitable Efforts
NBC Universal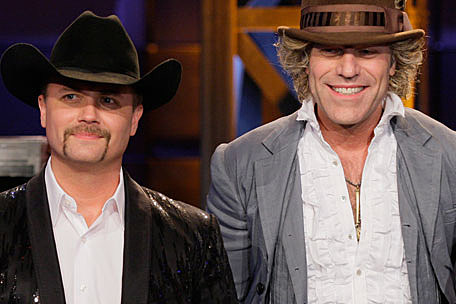 NBC Universal
Raising more than a million dollars for St. Jude Children's Research Hospital, delivering medical supplies to Sudan, searching for missing people in Haiti following a devastating earthquake, mentoring Special Olympics athletes ... these are just some of many, many initiatives taken by Big & Rich to help people in need.
The country duo is being honored for their charitable efforts by their peers in country radio, as Big Kenny and John Rich are the recipients of the CRS 2013 Artist Humanitarian Award.
"Big Kenny Alphin and John Rich individually and collectively have used their success to set a personal example for all of us to follow as humanitarians," says CRS Executive Director Bill Mayne. "Their selfless contributions have gone a long way to help make life better for countless men, women, and children, both today and tomorrow."
The "That's Why I Pray" singers will receive the award at the annual Country Radio Seminar on Feb. 27 in Nashville. Past CRS Humanitarian award winners have included Rascal Flatts, Tim McGraw and Faith Hill, Trace Adkins, Randy Owen, Toby Keith, Brad Paisley, Brooks & Dunn, Reba, Vince Gill, Garth Brooks and Charlie Daniels.
Watch Big & Rich's "That's Why I Pray" Video
%VIRTUAL-globalVideoEmbed-{"videoIds":"517578584","width":"476","height":"357"}%