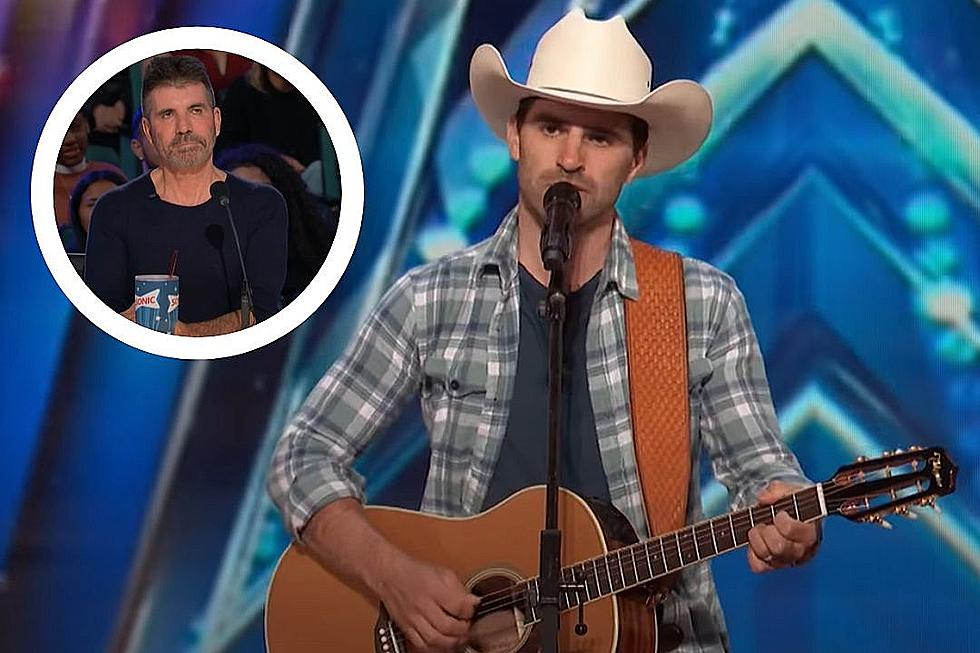 'America's Got Talent': Mitch Rossell's 'Son' Honors His Father, Killed by Drunk Driver [Watch]
'America's Got Talent'
We've got our first taste of country on this season of America's Got Talent. Mitch Rossell makes his emotional debut during Tuesday night's (June 6) episode, both with his story and his song "Son."
As soon as Rossell introduces himself, it becomes clear this is going to be a tearjerker. The hopeful explains that he got into the music industry because of his dad — he remembers driving around together when he was a kid and listening to country music. While Rossell came from humble beginnings, his dad worked hard to save up and get his son a guitar so that he could learn to play.
But Rossell found himself more interested in sports and didn't learn to play right away. Then, tragically, Rossell's father was killed by a drunk driver. The now-singer was just 10, and his dad never got to see him strum a song.
Navigating life without his dad was challenging, Rossell tells judges. After high school, he decided that he needed to find a way to connect with his father's memory. He made the thoughtful decision to pick his guitar back up and learn to play in his dad's honor. Rossell started playing shows when he could, and gradually built up his skillset while singing for tips.
After chatting with the judges for a little while, Rossell launches into an original song that he explains is a true story about his own life experiences. The lyrics find him singing the story of his dad's untimely passing, and Rossell begins to fill his dad in on everything that he's missed since his death, including the birth of his grandson.
That hard work and dedication brought him to the America's Got Talent stage. Watch his heartfelt performance of "Son" here:
Rossell's vulnerability and his vocal talent score him a standing ovation from the judges and the studio audience. Judge Howie Mandel predicts that after people had a chance to hear Rossell's original piece, that it will become the most-downloaded country song. That shocks the East Tennessee native, but Rossell concedes that it would be nice if that were to come to fruition.
Often the most difficult judge to impress, Simon Cowell doesn't beat around the bush: He admits that he loved every part of the performance, from the singer's voice to his lyrics. He admits he thinks people are going to really connect with Rossell and his song, because it's clear that he is sincere. Cowell wraps his feedback with a simple and to-the-point, "brilliant."
Rossell scores four yes votes and advances to the next stage of the competition. America's Got Talent airs throughout the summer on Tuesday nights at 8PM ET on NBC.
The 50 Saddest Country Songs of All Time
Each one of the 50 saddest country songs of all time tells a story. Some of those stories are about the pain of heartbreak, while others explore the grief of losing a loved one. Some are about more unconventional subject matter — from infertility to the loss of the beloved family dog — while others tap into the universal subjects of heartbreak and loneliness. Flip through the gallery below for a list of the saddest country songs, ever.