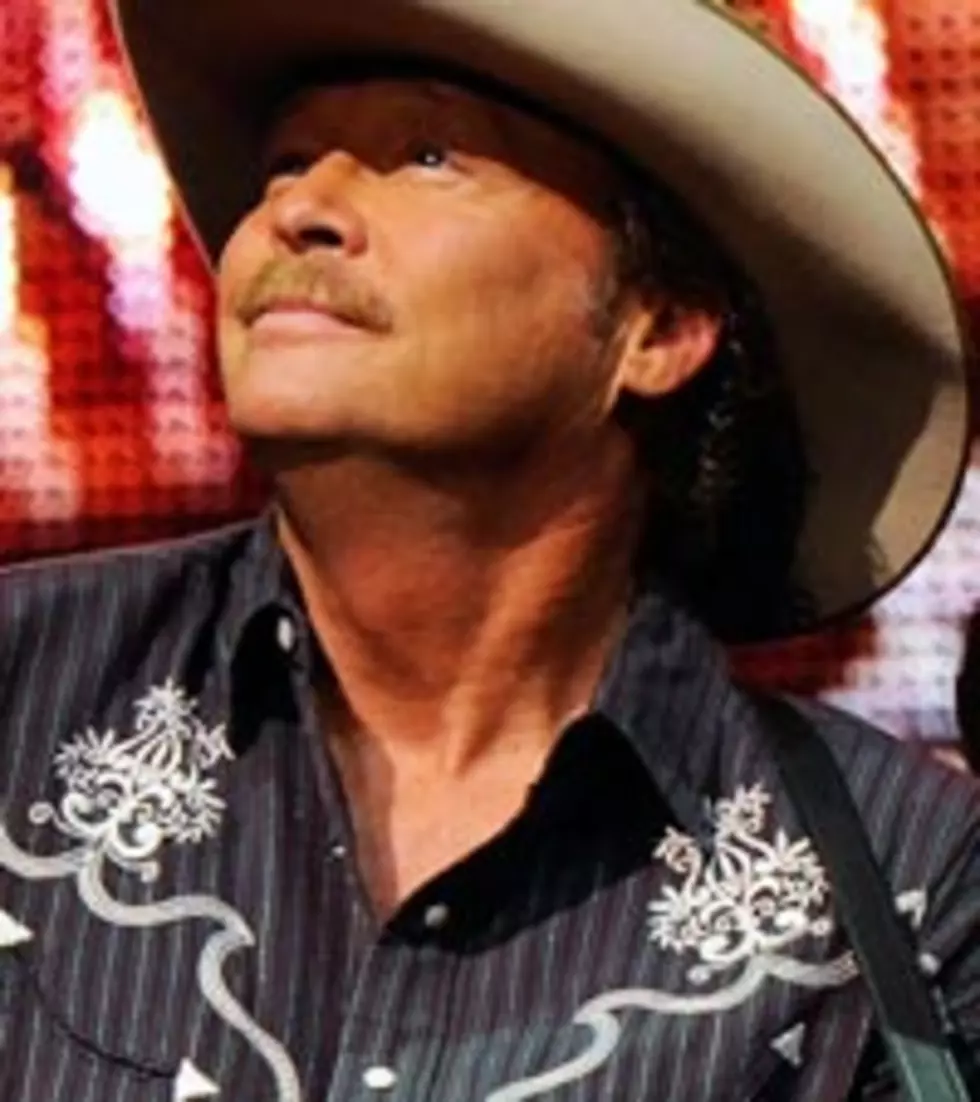 Alan Jackson Says New Single Had Hair-Raising Effect
Frederick Breedon, Getty Images
Alan Jackson is getting ready to release a new album, which will be the first project on his own label, Alan's Country Records (a joint venture with EMI). His debut single from the disc, 'So You Don't Have to Love Me Anymore,' is already steadily climbing the charts. The new tune has a close family connection, but the Grand Ole Opry member says that has nothing to do with why he chose the single.
"My nephew's a writer on it, but that didn't have any influence on me," Alan tells The Boot. "I try not to look at who writes anything. I try to just pick the songs."
The Georgia native says he knew as soon as he heard the song that he had discovered something special. "Well, at first it raised the hair on my arms, when I heard the demo," he recalls. "It was a really good version, too. It was one of those songs that, when I heard it, it's the kind of song that made me want to be in country music. I'm such a big fan of that kind of song. Sad songs, or break-up songs, and heartache songs are always the best ones to bring that emotion out and are actually the easiest to write as a writer.
Alan hints that 'So You Don't Have to Love Me Anymore' could even be another career song for him. "I just think it's one of the better songs to come out of Nashville in a long time," he notes. "People are comparing it to a new 'He Stopped Loving Her Today.' I wouldn't want to put myself in that category with George [Jones], but it is a great song."
The singer-songwriter has penned many of his chart-topping hits, including 'Don't Rock the Jukebox,' 'Chattahoochee,' 'Remember When,' and the award-winning 'Where Were You (When the World Stopped Turning),' but he maintains he is just as happy to record other people's songs.
"I don't write all my stuff," he acknowledges. "Everybody always thinks that. But in just about every album I've ever had has been about 50-50 songs I've written or co-written and other people's songs. 'Good Time' is the only album I wrote every thing on there. We're always looking for outside songs."
With the upcoming album in its final stages, the multi-platinum-selling singer says the CD will include some of the music his fans have come to expect from him, as well as a few surprises. "There are some cool things on there," he reveals. "It's kind of like most of my albums. It's a mixture ... uptempo and fun and serious and heartache songs."
The album, which Alan teases includes a "really fun, uptempo" song with Zac Brown, also features a tune providing an intimate glimpse into one of his more deeply personal struggles. "There's a song I wrote that's kind of hard to sing or listen to, because I wrote it when [my wife] Denise first found out she had cancer a year or so ago, and it just knocked me down," he admits. "It was really tough, and this song came out of it. I don't imagine it's a commercial release or anything, but there's a lot of emotion in that song."
Alan will hit the road in April for a series of shows, which includes stops in Colorado, Pennsylvania and California. See his complete tour schedule here.
Watch Alan's 'So You Don't Have to Love Me Anymore' Video