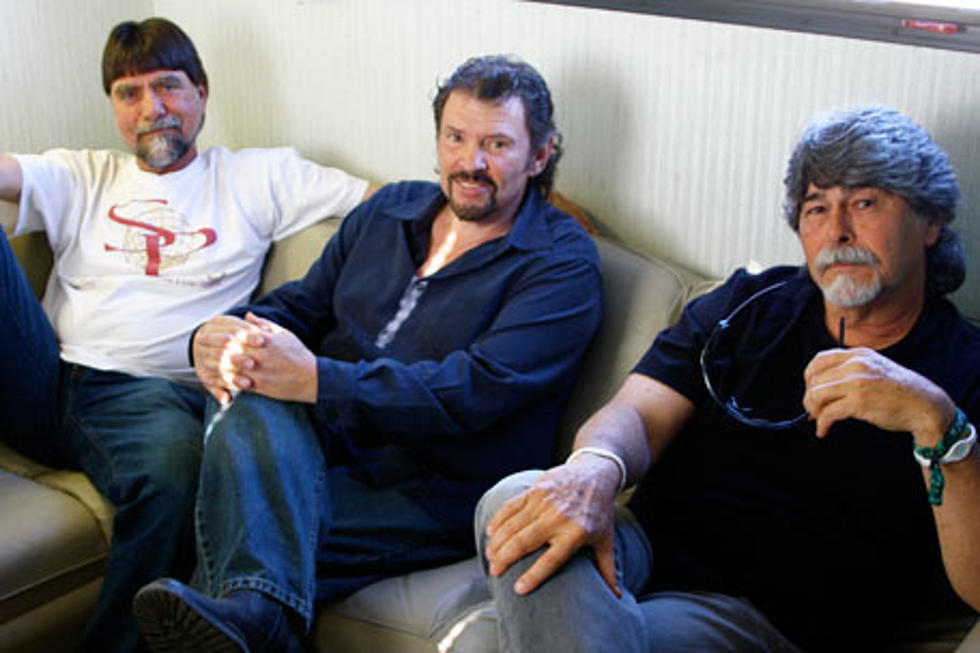 Alabama Interview: Legendary Band Talks Industry Changes and Military Support
Charles Epting
Country supergroup Alabama first came together back in 1969, in Fort Payne, Ala., and country music has never been quite the same. When Randy Owen, his cousin Teddy Gentry and Jeff Cook joined forces, originally calling themselves Wildcountry, few could have had any knowledge of the impact these three gentlemen would have on the industry.
But of course, it's not Wildcountry that is credited as bringing country music groups (as opposed to solo artists) into the mainstream. It's the next name the band chose, Alabama, that became the legend. And legend they remain. Truckloads of country (and pop) hits later and more than 73 million records sold, the band announced their farewell tour in 2002 and spent the next year on the road, bidding farewell to their loyal fans. But once in a while, the legends re-appear to remind everyone of just how it's done.
At the recent Stagecoach Country Music Festival held just outside Palm Springs in Indio, Calif., Alabama was up on the main stage, their first appearance ever at this notable festival. Despite not playing many dates anymore, they were as tight as ever, and played polished, passionate versions of many of the songs that made folks fall in love with them in the first place. It was some old-school country royalty in the house, and as the guys told The Boot just before taking the stage, it's always good to be back in front of the people, even as the industry has evolved over the years.
You all have seen the music business change a lot since you started.
Jeff: Oh yeah. I think we got out just in time, as far as corporate radio was concerned. I mean, they'll always play the old stuff, which is good. But not so much the new stuff. Which, honestly, got frustrating.
Teddy: No matter who you are, after you run your course -- and, I mean, we had 43 No. 1 records -- you just hit the wall, no matter who you are. The greatest singers of all time, it doesn't matter, it even happens to them. But once you've made your contribution, it's OK. It doesn't make you any less of a band when they stop playing your newest stuff.
Jeff: Your energy and fan base and who you are doesn't change. But there just comes that day for anyone and everyone when you're not in the mainstream anymore. Like Teddy said, it takes nothing away from what you've done.
After all this time, is it still fun to play live in a setting like the Stagecoach festival?
Jeff: Oh yeah! In any setting, we love it.
Randy: This is the reason we got into music -- to play in front of people. It took us 7 or 8 years to get a fan base built, so we appreciate it that people still come out to see us, rarely as we play these days.
A lot of the younger fans will no doubt be seeing you for the first time. Do any of you remember the first show you ever saw when you were coming up?
You do a lot to support the military. It seems very important to you as a band.
Randy: It is. I have a lot of family connections, which has always made it important, too. My brother-in-law got home a few days ago from over there. Me, I have to be in touch with the military. My wife is military, my retired father, my sister-in-law, brother-in-law. For me, personally, a great deal of my life and my family's life is spent sending stuff over and such. Anything we can do to help. And, of course, the band has played a huge part as well over the years.
Do you give advice to many of the younger artists today?
Teddy: Not so much. It's kind of hard. Music just changes so much. When we came up, we were considered different. Wearing t-shirts and tennis shoes and having long hair and playing loud. So you just have to go with what you've got. But we do tell them that there are no shortcuts and that you have to work hard sticking to your guns. And if you don't feel like you were called to preach ...
Jeff: ... stay out of the pulpit.
Watch Alabama's 'Song of the South' Video