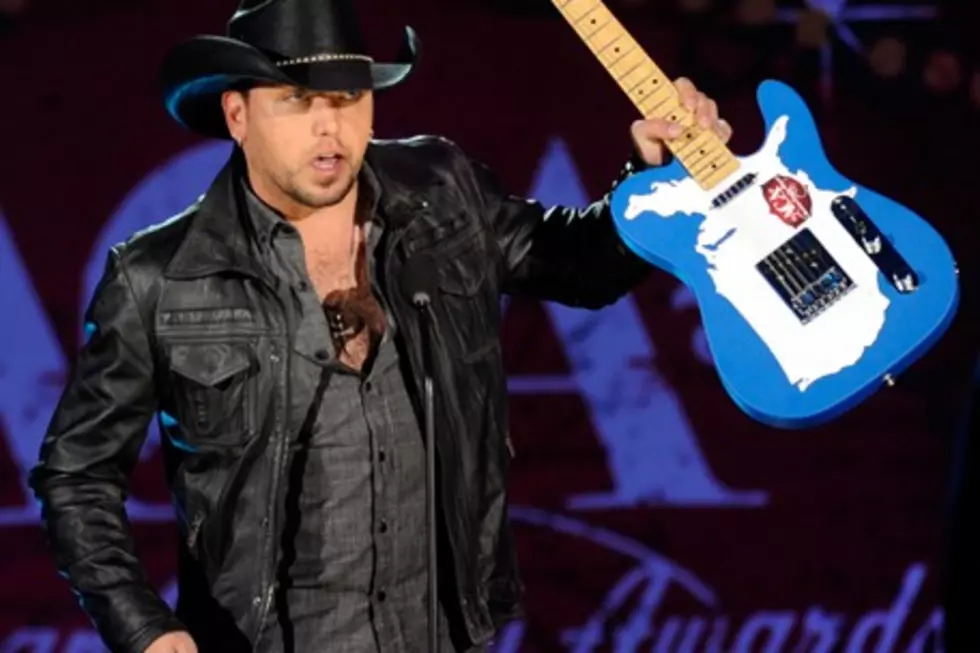 American Country Awards Winners 2011
Ethan Miller, Getty Images
Jason Aldean was the big winner at Monday's American Country Awards, taking home six new Fender guitars (the official ACA 'trophy'), including one for the night's top honor: Artist of the Year. "This is a little ridiculous now," the superstar said upon taking the stage for his sixth win. "It's been a crazy year and so many people to thank. I could stand up here for an an hour and thank everyone I needed to ... my band, everybody who plays on my records, my crew out on the road, the fans for coming to my show. It's definitely 'my kinda party.' Thank you so much!"
'My Kinda Party' is, of course, the title of Jason's latest album -- the best-selling country CD of the year and the winner Monday for ACA Album of the Year. Jason's other ACA wins include Single By a Male Artist (for 'My Kinda Party'), Touring Headline Package of the Year and both Vocal Collaboration and Video by a Group or Collaboration for 'Don't You Wanna Stay' with Kelly Clarkson.
Toby Keith capped off the night by performing his latest single, 'Red Solo Cup,' after receiving the Artist of the Decade honor, which is based on accumulated Mediabase radio airplay since 2002. "Thank you very much," he said upon accepting the honor. "Hell, anybody can have a good decade, right? As long as the fans keep coming. I want to thank the fans. You guys keep us out on the road and keep requesting our stuff and keep us in business. We've had a great decade and I hope we have another one. I'm ready to party in Vegas!"
Legendary group Alabama was honored for their incomparable contributions to country music, taking home the guitar for the Greatest Hits Award, which is also based solely on radio airplay. The band, who have earned an impressive 43 No. 1 singles, were thrilled with the honor. "I'm just so proud that we get a chance to share this with our fans all around the world that have been so great to us all these years," lead singer Randy Owen stated, after performing their classic hit, 'Mountain Music.' "And tonight we share this wonderful freedom to play our music because of those great men and women all over the world that are serving our country. I thank you. God bless."
Thompson Square and Carrie Underwood were both multiple winners tonight, each taking home three new Fender guitars. Keifer and Shawna Thompson, who make up the real-life husband and wife duo, took home the honors for Single of the Year by a New Duo or Group and Single by a New Artist for their song, 'Are You Gonna Kiss Me Or Not?,' which also earned them the ACA for Music Video of the Year by a Duo or Group. Carrie won for Female Artist of the Year, as well as Single of the Year by a Female Artist and Music Video by a Female Artist for her tune, 'Mama's Song.'
"Once again, thank you fans!" a beaming Carrie gushed from stage. "Everybody at the fan club, you guys vote like crazy and support all of us and we thank God for you every single day of our lives. Thanks to my family and friends and Mike, I love you and miss you! His teammates are going to make fun of him for that. Sorry, babe. I have got an amazing 2012 planned for all of you. We're going to have a lot of fun. Thanks so much!"
Carrie's fellow Okie Blake Shelton took home two trophies earlier tonight, winning double honors for Music Video of the Year and Music Video of the Year by a Male Artist for his song, 'Who Are You When I'm Not Looking.' Chris Young also took home a pair of guitars for Single of the Year for his No. 1 single, 'Voices,' as well as the ACA for Breakthrough Artist.
Scotty McCreery took home his first-ever country music award, winning the Fender guitar for New Artist of the Year. Brad Paisley was named Male Artist of the Year.
See a full list of 2011 ACA nominees, with the winners in bold below!
2011 ACA Nominees & Winners:
*Jason Aldean -- WINNER

Kenny Chesney

Lady Antebellum

Taylor Swift

Zac Brown Band
Artist of the Year: Male

Jason Aldean

Luke Bryan

Kenny Chesney

*Brad Paisley -- WINNER

Blake Shelton
Artist of the Year: Female

Sara Evans

Alison Krauss

Miranda Lambert

Taylor Swift

*Carrie Underwood -- WINNER
Artist of the Year: Duo or Group

The Band Perry

*Lady Antebellum -- WINNERS

Rascal Flatts

Sugarland

Zac Brown Band
Artist of the Year: Breakthrough Artist

Eric Church

Eli Young Band

*Chris Young -- WINNER

Justin Moore

Jake Owen
Artist of the Year: New Artist

The Band Perry

*Scotty McCreery -- WINNER

Jerrod Niemann

The Pistol Annies

Thompson Square
Album of the Year

*Jason Aldean, 'My Kinda Party' -- WINNER

Kenny Chesney, 'Hemingway's Whiskey'

Brad Paisley, 'This Is Country Music'

Taylor Swift, 'Speak Now'

Keith Urban, 'Get Closer'

Zac Brown Band, 'You Get What You Give'
Single of the Year

Billy Currington, 'Let Me Down Easy'

Tim McGraw, 'Felt Good On My Lips'

Thompson Square, 'Are You Gonna Kiss Me Or Not'

*Chris Young, 'Voices' -- WINNER

Zac Brown Band with Alan Jackson, 'As She's Walking Away'
Single of the Year: Male

*Jason Aldean, 'My Kinda Party' - WINNER

Luke Bryan, 'Someone Else Calling You Baby'

Billy Currington, 'Let Me Down Easy'

Tim McGraw, 'Felt Good On My Lips'

Chris Young, 'Voices'
Single of the Year: Female

Sara Evans, 'A Little Bit Stronger'

Miranda Lambert, 'Heart Like Mine'

Reba, 'Turn On the Radio'

Taylor Swift, 'Mean'

*Carrie Underwood, 'Mama's Song' -- WINNER
Single of the Year: Duo or Group

The Band Perry, 'You Lie'

Rascal Flatts, 'Why Wait?'

Sugarland, 'Stuck Like Glue'

*Thompson Square, 'Are You Gonna Kiss Me Or Not?' -- WINNERS

Zac Brown Band, 'Colder Weather'
Single of the Year: New Artist

The Band Perry, 'You Lie'

Craig Campbell, 'Family Man'

Jane Dear Girls, 'Wildflower'

Jerrod Neimann, 'What Do You Want?'

*Thompson Square, 'Are You Gonna Kiss Me Or Not?' -- WINNERS
Single of the Year: Vocal Collaboration

*Jason Aldean with Kelly Clarkson, 'Don't You Wanna Stay?' -- WINNERS

Kenny Chesney featuring Grace Potter, 'You and Tequila'

Brad Paisley with Alabama, 'Old Alabama'

Zac Brown Band with Jimmy Buffet, 'Knee Deep'

Zac Brown Band with Alan Jackson, 'As She's Walking Away'
Music Video of the Year

Sara Evans, 'A Little Bit Stronger'

Jerrod Niemann, 'What Do You Want'

*Blake Shelton, 'Who Are you When I'm Not Looking' -- WINNER

Thompson Square, 'Are You Gonna Kiss Me Or Not'

Josh Turner, 'I Wouldn't Be A Man'
Music Video: Male

Jason Aldean, 'My Kinda Party'

Jerrod Niemann, 'What Do You Want'

*Blake Shelton, 'Who Are You When I'm Not Looking' --WINNER

Josh Turner, 'I Wouldn't Be A Man'

Keith Urban, 'Put You In A Song'
Music Video: Female

Sara Evans, 'A Little Bit Stronger'

Reba McEntire, 'Turn On The Radio'

Ashton Shepherd, 'Look It Up'

Taylor Swift, 'Back To December'

*Carrie Underwood, 'Mama's Song' -- WINNER
Music Video: Duo, Group or Collaboration

Jason Aldean Feat. Kelly Clarkson, 'Don't You Wanna Stay'

The Band Perry, 'You Lie'

Lady Antebellum, 'Hello World'

*Thompson Square, 'Are You Gonna Kiss Me Or Not' -- WINNERS

Zac Brown Band with Alan Jackson, 'As She's Walking Away'
Music Video: New Artist

The Band Perry, 'You Lie'

Craig Campbell, 'Family Man'

Brett Eldredge, 'Raymond'

Jerrod Niemann, 'What Do You Want'

*Thompson Square, 'Are You Gonna Kiss Me Or Not' -- WINNERS
Touring Headline Package of the Year

*Jason Aldean -- WINNER

Kenny Chesney

Toby Keith

Tim McGraw

Brad Paisley

Rascal Flatts

George Strait

Taylor Swift

Carrie Underwood

Keith Urban