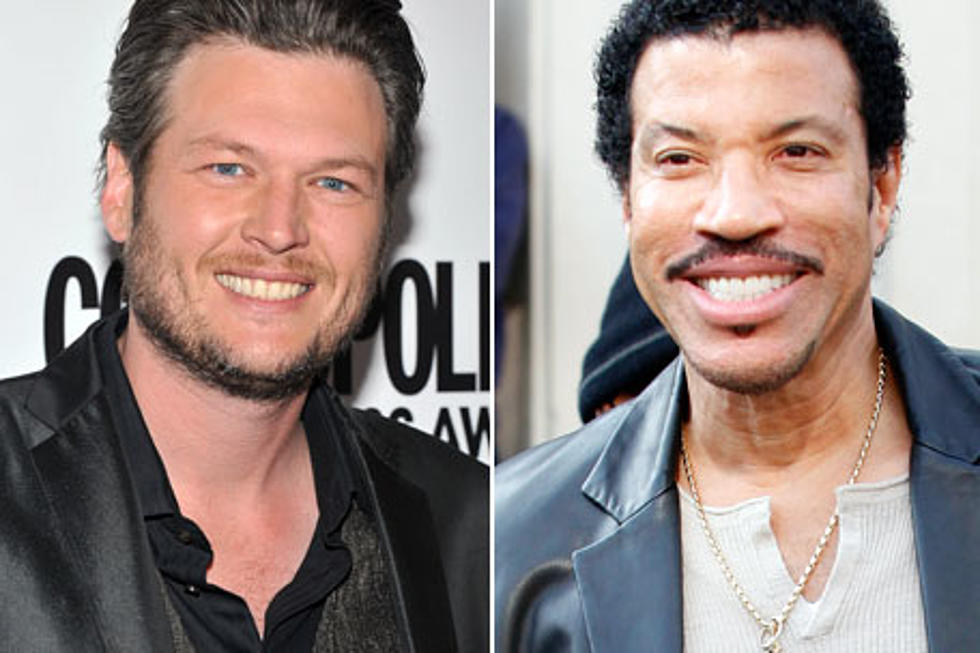 2012 ACM Awards Duets Announced
Theo Wargo, Getty Images/Neil Mockford, FilmMagic
Blake and his legendary accomplice will sing 'You Are,' which appears on Lionel's recently released album, 'Tuskegee.' The performance will also be included in the TV special 'ACM Presents: Lionel Richie and Friends - In Concert,' which will air April 13 on CBS.
Steve Martin, who is touring this summer with his bluegrass band the Steep Canyon Rangers, will showcase the title instrument of Rascal Flatts' current single, 'Banjo,' during their collaboration.
Toby isn't revealing who will joining him on stage, but he promises that this rendition of 'Red Solo Cup' will be a memorable one. And, Kenny and Tim are keeping details of their duet quiet, but expect the Brothers of the Sun tourmates to bring something special.
In addition, as announced earlier this week, Martina McBride will be joined by Train's Pat Monahan for 'Marry Me.' Their groundbreaking performance will include a live wedding on stage.
Other scheduled performers for the night include Jason Aldean, Dierks Bentley, Luke Bryan, Eric Church, Sara Evans, Miranda Lambert, Brad Paisley, Carrie Underwood, Keith Urban, Chris Young, the Band Perry, Lady Antebellum and Little Big Town.
The ACM Awards air live on CBS this Sunday (April 1), beginning at 8PM ET.


Watch the Couple to Be Married During Martina's Performance
#fivemin-widget-blogsmith-image-562588{display:none;} .cke_show_borders #fivemin-widget-blogsmith-image-562588, #postcontentcontainer #fivemin-widget-blogsmith-image-562588{width:570px;height:411px;display:block;}

try{document.getElementById("fivemin-widget-blogsmith-image-562588").style.display="none";}catch(e){}