Trace Adkins' 'The Virginian' Movie Returns Singer to Big Screen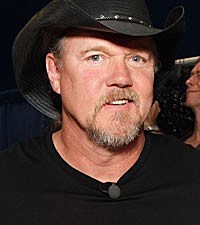 Cindy Ord, Getty Images
Trace Adkins is getting plenty of time on the small screen, thanks to his weekly role as a contestant on NBC's "Celebrity Apprentice," and now he's returning to movie screens as well. The Louisiana native, whose previous acting credits include supporting roles in "The Lincoln Lawyer" and "Wyatt Earp's Revenge," has been in Canada taking on the title role in a western called "The Virginian."
"I told the director, the first day that I met him up there on the set, I said, 'OK, let's get this out of the way first: I don't trust anyone who casts me as a lead in the movie,'" Trace tells The Boot. 'So let's just start from there.'"
"I think Gary Cooper was the first one that did it," Trace notes of the actor who took on the iconic role in 1929. "It's been done many, many times, and there was a series, 'The Virginian,' back in the '60s. Whoever's turn it was to have the title 'The Virginian' this year, made the movie."
Trace says the film, which also stars Ron Perlman ("Sons of Anarchy"), should be out by the end of the year. Also slated for the singer-actor in 2013 is a tour in support of his upcoming album, Love Will … . Still, the country superstar isn't worried about burning out anytime soon.
"I just keep going," he explains. "I come from the oil field and it doesn't really matter how good a job I did yesterday, I've got to get up and do it again today. You can't rest on your laurels. Every day you have to get up and prove yourself again, and earn your keep. That's just the way I approach this business."
Love Will … will be released on May 14. "Celebrity Apprentice" airs on Sunday nights at 9:00 PM ET on NBC. A release date for "The Virginian" has yet to be announced.
Watch Our Exclusive Trace Adkins Interview %VIRTUAL-globalVideoEmbed-{"videoIds":"517562080 ","width":"476″,"height":"298″,"sid":"577″,"relatedMode":"0″,"hasCompanion":"false","autoStart":"false","colorPallet":"#704000″,"videoControlDisplayColor":"#000000″}%