Ray Stevens to Release New Musical Comedy Album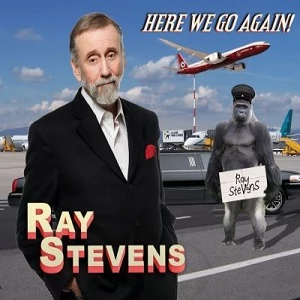 Ray Stevens is returning to his roots with an all-new musical comedy album, Here We Go Again! The record marks his first purely comedic musical release in almost 10 years.
"It takes me a while to catch on sometimes, but I realize now that while I like to do all kinds of music, it's the comedy that most people think of when they think about Ray Stevens," Stevens says. "I love comedy too and so … Here We Go Again!"
The 12-track project includes his new tune, "Taylor Swift is Stalkin' Me," which he released, along with a video, earlier this month, as well as songs such as "Pickin' on the Chicken," "The Baptism of Stumpy Brown" and "Knock Him Out John."
"I think all the folks who are fans of my earlier works like "Ahab the Arab," "Mississippi Squirrel Revival," "The Streak" and "Gitarzan" will really enjoy this album," Stevens adds. "I feel like it's some of my best work in years, and I hope it will make folks laugh … something that is much needed in the world right now."
The 76-year-old released his memoir, Ray Stevens' Nashville, last year. The book details his successful, and eccentric, career and is available for purchase on Amazon.
Here We Go Again! will be released on March 24; it is currently available for pre-order on iTunes, Amazon and Google Play. A track listing is available below.
Ray Stevens, Here We Go Again! Track Listing:
1. "Taylor Swift Is Stalkin' Me"
2. "What'd I Say?"
3. "There Must Be a Pill for This"
4. "Walkin' the Dog"
5. "Hearts Made of Stone"
6. "Pickin' on the Chicken"
7. "The Baptism of Stumpy Brown"
8. "Little By Little"
9. "You Didn't Build That"
10. "Come to the U.S.A."
11. "A Handshake Will Do"
12. "Knock Him Out John"