Rascal Flatts Halloween Hospital Performance Raises Spirits of Sick Kids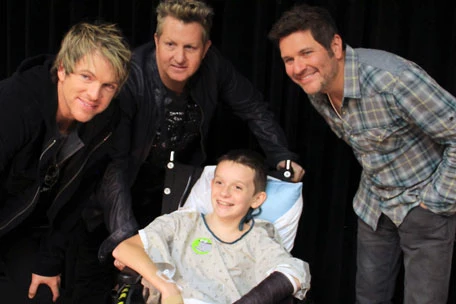 Rascal Flatts took their Halloween treats to children who couldn't roam the streets last night (Oct. 31). The trio celebrated All Hallow's Eve a day early by performing for patients — like Ethan Jennings (pictured above) — and families at Nashville's Monroe Carell, Jr. Chidlren's Hospital at Vanderbilt on Tuesday (Oct. 30).
After their first performance, Joe Don Rooney, Gary LeVox and Jay DeMarcus took their three-man show from room to room in order to pay a visit to those who were unable to leave their beds for the acoustic set.
The group is ever-present at the hospital since the pediatric surgical suite was dubbed the "Rascal Flatts Surgery Center" in 2010. The honor recognizes the guys for their dedication and donation to the children's hospital, which performs live-saving surgeries on children from infancy to adolescence.
Rascal Flatts is taking a breather before taking their Changed tour back on the road in 2013. See a list of their tour dates for next year here.
Watch The Boot's 'A Day in the Life' of Rascal Flatts
#fivemin-widget-blogsmith-image-11704{display:none;} .cke_show_borders #fivemin-widget-blogsmith-image-11704, #postcontentcontainer #fivemin-widget-blogsmith-image-11704{width:475px;height:357px;display:block;}

try{document.getElementById("fivemin-widget-blogsmith-image-11704″).style.display="none";}catch(e){}