Randy Travis' Wife Offers Update on His Recovery at Hall of Fame Announcement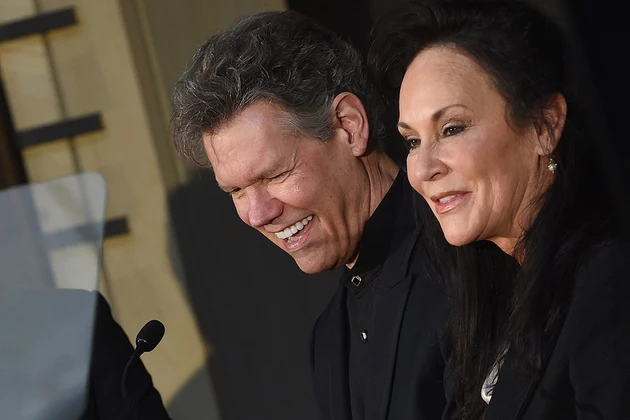 On Tuesday (March 29), the Country Music Hall of Fame announced its Class of 2016, including Randy Travis. Following the announcement ceremony, Travis' wife Mary offered an update on her husband's continuing recovering from his stroke in 2013, calling his progress a series of "giant baby steps."
"There is nothing where you wake up one day and go, 'Oh, I can talk,'" Mary Davis explains (quote via Nash Country Weekly). "It's the little things — the extra word, the extra sound, the extra lap we make in rehab."
Music, Davis notes, "has been a huge part of the rehabilitation process" and "comes easier to him, as far as singing songs." Mentioning the performance of "Amazing Grace" that Travis gave at a friend's funeral in February, Davis recalls, "I don't know that he thought he was ready for it, but he sang through all four verses. It was beautiful."
During the announcement ceremony, both Travis and Davis came to the stage to reflect on his upcoming induction. The country icon nodded and uttered a quiet "thank you" as a standing ovation continued for quite a while, while Davis recounted her husband's childhood, his early years in the music business … and, most candidly, the trying moments when it didn't seem as though he'd live much longer.
"After spending the months in the hospital when they really said there was no hope, go ahead and pull the plug, I went to his bedside, and I said, 'Baby, you've gotta give me some more fight,'" Davis said onstage. "And I knew that he had had a little talk with Jesus, because he squeezed my hand, and a little tear fell down, and I knew that he wasn't through yet."
Post-ceremony, Davis revealed that they had learned of Travis' inclusion in the Country Music Hall of Fame's Class of 2016 during a recent visit to Nashville.
"Whenever Randy and I would talk about [the induction], it was that million-dollar smile of Randy's," Davis says (quote via the Tennessean). "I knew he understood the last 30 or 40 years of hard work were all worth it. This is the greatest of honors in country music. I know he understands that."
Since his life-threatening stroke, Travis has made several public appearances, including at the Grand Ole Opry in September and a surprise appearance at the 2015 ACM Awards. In mid-January, one of Travis' good friends told a newspaper that the country icon's recovery prognosis is good, and at the Hall of Fame, Davis noted that her husband still hopes to be able to return to performing one day — or "at least to be able to communicate with his fans again."
"I don't think he understands how important he has been to country music. It's that humility that's in Randy that doesn't allow him to think he made that big of a difference," she adds. "When fans come over and talk to him and want his autograph, I say, 'Honey, they love you so much.' And he's like, I don't get it. Maybe now that he's in the Hall of Fame, he'll get it."
10 Artists Who Should Be in the Country Music Hall of Fame
5 Lessons We've Learned From Randy Travis