Mindy McCready Says She's Too Pregnant to Return Son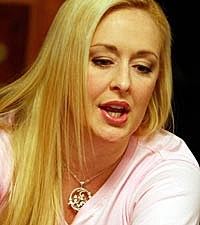 Mindy McCready won't likely be obeying police orders to return her son to his grandmother, who has legal custody, by 5:00 PM today. After fleeing from Cape Coral, Fla., with 5-year-old Zander, the country singer is now reportedly in Nashville, Tenn., and says she's staying put.
The latest development in this bizarre story is that Mindy now tells the Associated Press that she's actually seven months pregnant with twins — too pregnant to travel. Her rep told People magazine yesterday that she was just five months along.
When a south Florida Children's Network case worker discovered Tuesday (Nov. 29) that Mindy and her son had left town, police were notified and a judge ordered the singer to return her son by today, or face an arrest warrant. Mindy's mother, Gayle Inge, was awarded legal custody of the little boy in 2007, and the singer only has visitation rights. Still, this is not considered a missing persons case, as police have confirmed Zander's safety via a Skype chat with him.
Zander's safety is why Mindy claims to have taken him away from her mother, which she reportedly did shortly before Thanksgiving. She says her son has suffered abuse at the Inge home. "I'm a mom first," she told the AP. "No matter what happens, I'm going to protect my kid. If I have to go to jail, so be it."
Mrs. Inge calls the abuse allegations "absolutely not true." She and Mindy have been fighting for custody of Zander for several years now, with one of their arguments ending in the singer being arrested for assaulting her mother. Testimony in their latest hearing ended last month, and the judge has not yet ruled on custody. So, legally, Zander is supposed to be living with his grandmother.
Zander's father is Mindy's ex-boyfriend, Billy McKnight, who was arrested for physically abusing her and allegedly trying to kill her back in 2005. He only has visitation rights, as well. The twins' father, Mindy tells the AP, is a music producer named David. The singer gushed about her new beau with The Boot back in April of 2010. "I'm dating a producer, songwriter, genius musician. He's a wonderful guy from New Orleans," she told us. "He is the sweetest and most wonderful person I have ever had in my life … This is a different kind of love — a grown-up kind of love, a real kind of love."
Since selling more than two million copies of her 'Ten Thousand Angels' album in the mid '90s, Mindy has gone from country star to tabloid fixture. She has been jailed twice on drug and alcohol-related crimes and hospitalized twice for alleged suicide attempts. She weathered countless media headlines when a decade-long affair with married baseball star Roger Clemens was exposed, along with the embarrassment of a leaked sex tape less than a year later. She has sued her mother and the National Enquirer's parent company, American Media Inc., over a story titled 'Mindy McCready Doesn't Deserve to Have Child Back.'
Mindy's 36th birthday was yesterday (Nov. 30), and she had just one wish for her big day: "I hope that for my birthday, I get my son forever."
Watch Mindy McCready's 'Ten Thousand Angels' Video