Mindy McCready Sues Her Mother and National Enquirer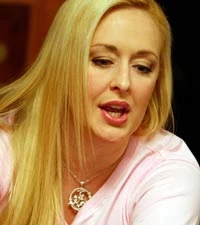 After battling drug addiction, criminal charges that resulted in two separate prison sentences, suicide attempts, media backlash following a rumored affair with married baseball star Roger Clemens and a sex tape that was widely circulated on the Internet, Mindy McCready has spent much of the past year trying to put her life back together, both for herself and her 5-year-old son, Zander. Staying mostly out of the spotlight, except for promoting her latest album, 'I'm Still Here,' the 35-year-old is back in the public eye, this time for suing both National Enquirer's publisher, American Media, Inc., and her mother, Gayle Inge, for an article the tabloid ran titled, 'Mindy McCready Doesn't Deserve to Have Child Back.'
The article, which cites Gayle as the only source, alleges Mindy has failed drugs tests and missed court appointments regarding custody of her son, whom she has only seen once in the last year. They are, according to the songstress, complete lies she is unable to ignore.
"What is shameful and heartbreaking is the unhealthy relationship I have endured with my mom over my lifetime," the singer says of her lawsuit. "With the help of friends and therapy, I have realized how detrimental the relationship has been for me and I've worked hard to detach. I've tried to keep my personal life from being public. But every time I take a positive step forward, make healthy, personal decisions and move forward in my career, it seems my mother uses it as an opportunity to step into the picture to deflate me … to become the focal point … to use the press to step into the spotlight-at my expense. In all honesty, I'm saddened it has come to this; but this is not a one-time, single event-to sell her 'stories' to the Star, the Globe and Radar Online. [Publications all under the American Media, Inc. umbrella.] It has just got to stop, for me and my son."
The Florida native has had several well-publicized arguments with her mother, who currently has custody of Zander, including having been charged with battery following a physical altercation between the two in 2007. But according to both Mindy and her attorney, Andrew Douglas, this latest incident will not be tolerated.
"The statements contained in the National Enquirer article [on or about June 8, 2011] are personal attacks intended to inflict hurt and pain on Ms. McCready at the expense of the truth," her lawyer states. "It is also unfortunate that the National Enquirer published this story without first corroborating Mrs. Inge's statements … At this time, we have no choice but to address the defamation in a court of law to protect Ms. McCready's personal and professional interests."
The lawsuit, which seeks punitive damages, alleges the article the National Enquirer ran is "false and misleading and therefore defamatory" and "by strong implication attacks the morality and character of McCready by providing credibility to the unsubstantiated statements of Gayle Inge through American Media's failure to fact-check Gayle Inge's statements in any capacity whatsoever."
The 'Guys Do It All the Time' singer says she wants to set the record straight. "What I want people to know is how unfairly I've been treated — because of my past mistakes and, quite frankly, because of my celebrity history," she insists. "My custody battle has been deplorable and fraudulent. And … my mother's agenda, I believe, is to continue to keep my character and lifestyle 'questionable.' The focus needs to be about the safety and well-being of my son and not about untruthful statements that have lent to unjust results. Zander and I need to be together."
Mindy's desire to be back in the spotlight for the right reason — her music — instead of her ongoing troubles, is one she has been trying to convey since she appeared on 'Celebrity Rehab' in 2009 and began trying to rebuild her personal and professional life. "If you're going to love me, then love me for who I really am," she told The Boot. "If you're going to hate me, then hate me knowing all of the facts, and not because of some story you heard. I want people to not count me out and not pass judgment until they hear the real story and they really do know me."
The lawsuit was filed in Palm Beach County, Florida.