David Nail Cherishes Taylor's Tweets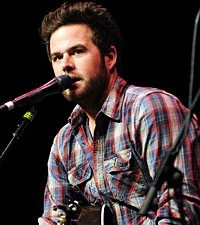 David Nail isn't afraid of having Taylor Swift write about him. In 2009, the 'Red Light' singer, who is gearing up for an opening act on Taylor's Speak Now World Tour, was thrilled to learn that the now 21-year-old had tweeted that the song was her "new favorite."
"It was a huge moment; I can remember exactly where I was," David tells The Boot. "My wife and I were driving from Jacksonville to Nashville and a buddy of mine said, 'Check Taylor Swift's Twitter,' and I wrote back, 'I'm driving right now, I can't. What's it say?' He goes, 'Trust me. Check it.' Obviously, when you spin it like that, I've got to risk the life of my wife and I, driving 70 miles per hour down the road. I pulled it up and that's the first thing I saw, and I thought, 'Holy smokes. This is probably not a bad thing to happen!' [laughs]"
Taylor's appreciation for David hasn't wavered since, which became evident when she tapped him to open for her Speak Now tour. "All the openers did a photo shoot the other day and Taylor told me, 'I love 'Let it Rain.' It's so good. You're on fire! I'm so happy for you,'" he remembers. "I looked right at her and said, 'You mind tweeting that?' [laughs] I'm not sure if she got exactly what I was referring to, because she's like me and she's tweeted 3000 times since then."
Everyone is asking the singer if he's worried about Taylor possibly penning a tune about him, but he's got plans of his own.
"If there's anything I hope to achieve out of this tour, I just want to know the grounds to which you have to achieve before she writes a song about you," he explains. "There has to be different levels of a relationship before you get into that 'OK, you're taking you're chances here. You may get a song about you.' Do you have to go on a few dates, and if you never go on another, do you get a song? Or, does love have to be in the picture? Do you have to eat Thanksgiving dinner with the person? I want to know exactly what the stipulations are. Maybe it's a blanket line, like if we get to this point and you do me wrong, you're getting a song. Maybe it's something else, I don't know."
However, he may just want to find out in order to impress his wife. "I've always been very curious about that, mainly because I want to be able to tell my wife Jake Gyllenhaal is a jerk and he really did her wrong and this is how he did it," he admits. "My wife is like everybody else, she's sucked into this US Weekly world and she's dying to know. She's got her conspiracy theories, too, and I want to be able to put them to bed."
David will get his chance to inquire when he hops on the Speak Now World Tour October 14 in in Lubbock, Texas. Get a complete list of tour dates here.
if(typeof AOLVP_cfg==='undefined')AOLVP_cfg=[];AOLVP_cfg.push({id:'AOLVP_897750278001′,'codever':0.1,'autoload':false,'autoplay':false,'displaymnads':true,'playerid':'89761511001′,'videoid':'897750278001′,'width':476,'height':357,'playertype':'inline','stillurl':'dynamic','videolink':'#','videotitle':'dynamic','videodesc':"});