2012 CMA Female Vocalist of the Year Is Miranda Lambert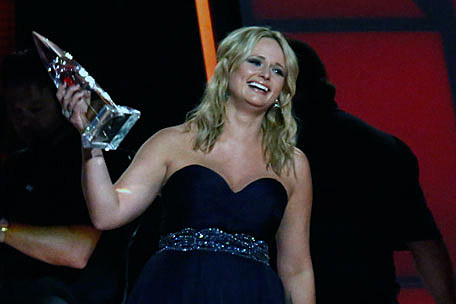 Miranda Lambert has done it again! The Texan and her husband Blake Shelton are now both three-time winners in their respective categories of Female Vocalist and Male Vocalist of the Year as Miranda takes home her third consecutive honor in the category.
"I don't necessarily deserve this, but I'll sure take it," Miranda said. "I didn't say anything for Song of the Year, because it was a huge, huge dream of mine to write the Song of the Year, and I never thought I'd get to especially celebrate it with my husband. It's amazing. Not going to cry again."
Miranda then gave a personal shout-out to her fellow nominees in what was one of the toughest categories of the night.
I've been listening to Red all week long, it's freaking awesome," she said of Taylor Swift's just-released album. "And I was at Carrie Underwood's rehearsal yesterday and she sang 'Blown Away' three times and I was blown away. I'm sitting here with Kelly Clarkson and I sang with her on stage in Colorado and I wanted to crawl in a hole and die after that … and I just talked to Martina and she invited me to her house. I grew up with her records and tried to hit even one note she ever sang and it's impossible! So, I can't believe I'm standing here holding this right now, but I'm going to try and represent for all the females that want to be up-and-comers and want to get there country voice out there, because there's room for all of us girls. We are a team and we're going to stick together and get our country voices heard."
Flip Through CMA Red Carpet Photos
%VIRTUAL-MultiGallery-170046|166849|157414|169567%