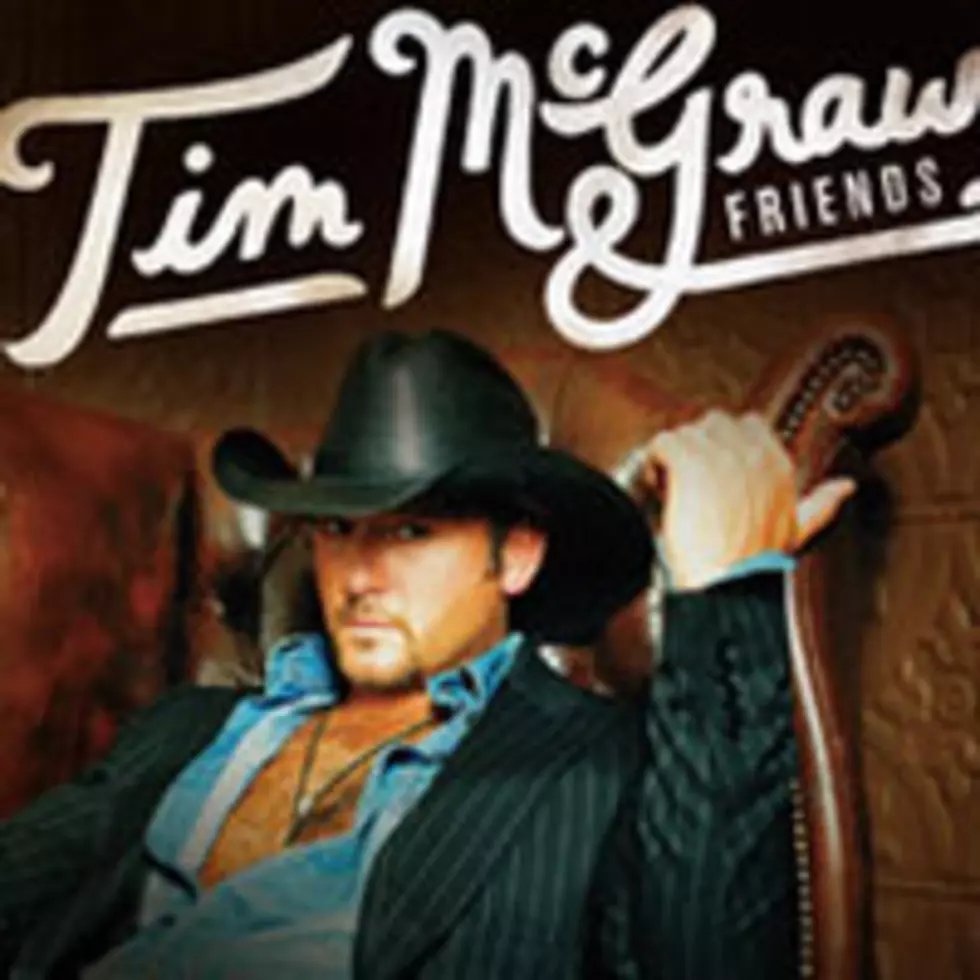 'Tim McGraw and Friends' Duets Album to Be Released Before Big Machine Debut
Curb Records
Tim McGraw fans have been anxiously awaiting his first album with Big Machine Records, Two Lanes of Freedom, but now they'll be able to purchase a record of the singer's duets two weeks before. Tim McGraw and Friends is an 11-track compilation of the Louisiana native's collaborations with vocalists ranging from Lionel Richie to Gwyneth Paltrow to Kenny Rogers. (See a track list below.) The project is due out on Jan. 22, and is being released by Tim's former label home, Curb Records.
This is the most recent development in the battle between the "One of Those Nights" singer and Curb. The company is currently appealing a court decision made in November 2011 that allowed the performer to record with another label.
This past September, Tim and Big Machine had a small victory, when a judge ruled against having the company disclose documents and correspondence regarding their new act. Curb was seeking the information in order to prove that Tim violated his contract with them, and to determine how much his former label home should be compensated. However, the judge decided that requested information could be confidential, and therefore detrimental to Big Machine's business.
Two Lanes of Freedom, which includes Tim's current single "One of Those Nights" and his most recent Top 15 song, "Truck Yeah," is set for a Feb. 5 release. Pre-order it here.
You can pre-order Tim McGraw and Friends here.
Tim McGraw and Friends Track List:
1. "Sail On" -- Tim McGraw & Lionel Richie

2. "Twisted" -- Tim McGraw & Colt Ford

3. "Owe Them More Than That" -- Tim McGraw & Kenny Rogers

4. "Me and Tennessee" (from the motion picture "Country Strong") -- Tim McGraw & Gwyneth Paltrow

5. "Middle Age Crazy" -- Tim McGraw, Jerry Lee Lewis & Jon Brion

6. "Can't Hurt a Man" -- Tim McGraw & Randy Travis

7. "Find Out Who Your Friends Are" -- Tim McGraw & Tracy Lawrence

8. "Cold, Cold Heart" -- Tim McGraw & Tony Bennett

9. "Milk Cow Blues" -- Tim McGraw & Ray Benson

10. "Bring On the Rain" -- Tim McGraw & Jo Dee Messina

11. "It's Your Love" -- Tim McGraw & Faith Hill
Watch Tim McGraw's 'One of Those Nights' Video