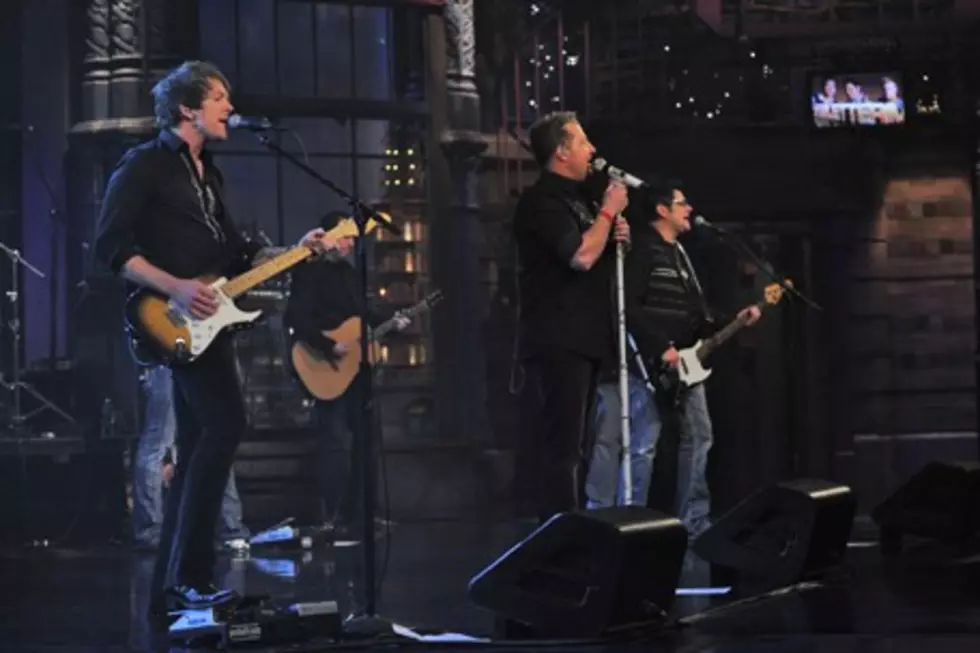 Rascal Flatts Debut New Album 'Live on Letterman'
John Filo of CBS
Rascal Flatts had the Ed Sullivan Theater audience on its feet for the entirety of their 45-minute set Monday night, November 15, for 'Live on Letterman,' a concert series run by the 'The Late Show With David Letterman' crew. Frequently making jokes with each other and fans, the playful trio's humorous vibe carried throughout their performance.
In New York promoting the release of 'Nothing Like This,' the Flatts took requests and even dedicated a track from their LP to a newly engaged couple in the audience. But most of the banter, whether joking or not, was aimed at reminding fans of their new album's release. "Make sure you pick up a copy or 12 tomorrow. They make great stocking stuffers," bassist Jay DeMarcus said of the new disc, which hits stores today (November 16).
With the album being Rascal Flatts' first release on Big Machine Records, lead singer Gary LeVox joked that label president Scott Borchetta needed permission from Taylor Swift to sign them."We said, 'Scott, we'd love to be on Big Machine Records,' and he said, 'Hold on a minute, I need to call Taylor Swift and see if she's OK with that.'"
Always the comedian, Jay interjected, "She still doesn't know. He didn't call her. When she finds out, we're all in trouble. When she does I'm gonna tell her, 'Come on Taylor, [sings] love's like a slamming screen door."
Rascal Flatts kicked off their set with the energetic 'Fast Cars and Freedom,' as the audience clapped along. New single, 'Why Wait,' followed suit after the band teased one audience member for his hat selection. While older hits like 'What Hurts the Most' and 'Unstoppable' had fans singing along word for word, new tracks received equal praise, especially 'Play.' With lyrics, "It's time to play / Like it's midnight in Vegas / Mardi Gras in New Orleans / New Year's Eve in New York City," the New York City audience heartily approved. With such a positive reaction, guitarist Joe Don Rooney said they just might extend their Big Apple trip. "We're not going back to Nashville 'til Christmas. We're gonna stay right here and perform every night."
"A lot of people ask us what we did different on this record. I like to say that we put 11 brand new songs on there, since I'm a smart ass like that," Jay said. "This record has really been fun for us to make because we went back to some of the stuff that people fell in love with off the first few records ... but we also took a few chances and did some things that are funky. We put a little bit of dirty in the music. We'd like to play one of those funkier tunes for you right now."
With screams of, "Bring the funk!" the audience was excited to hear 'They Try' for the first time. A jazzier feel with soaring electric guitar and fitting percussion combined with Gary's soulful, "old school Michael Jackson" vocals, the brand-new tune was an immediate crowd pleaser.
The remainder of the set included the beautiful ballad and potential wedding song of 2011, 'I Won't Let Go,' a track Rascal Flatts dedicated to a couple who got engaged earlier that day, as well as the title track of their last album, 'Unstoppable.' Before they ended their set, Gary wished everyone a happy holiday season. "Have a great Thanksgiving, have a wonderful Christmas. Happy Holidays. God bless every single one of you because sometimes life is just a highway."
A fitting closer, 'Life Is a Highway' had the entire audience singing along to every lyric at the top of their lungs, with one woman kicking off her shoes and dancing in the aisle. With the equally positive audience response to many of the tracks off 'Nothing Like This,' Rascal Flatts' new CD will surely be stuffed in a lot of stockings this holiday season.
if(typeof AOLVP_cfg==='undefined')AOLVP_cfg=[];AOLVP_cfg.push({id:'AOLVP_632003991001','codever':0.1,'autoload':false,'autoplay':false,'displaymnads':true,'playerid':'89761511001','videoid':'632003991001','width':476,'height':357,'playertype':'inline','stillurl':'dynamic','videolink':'#','videotitle':'dynamic','videodesc':''});