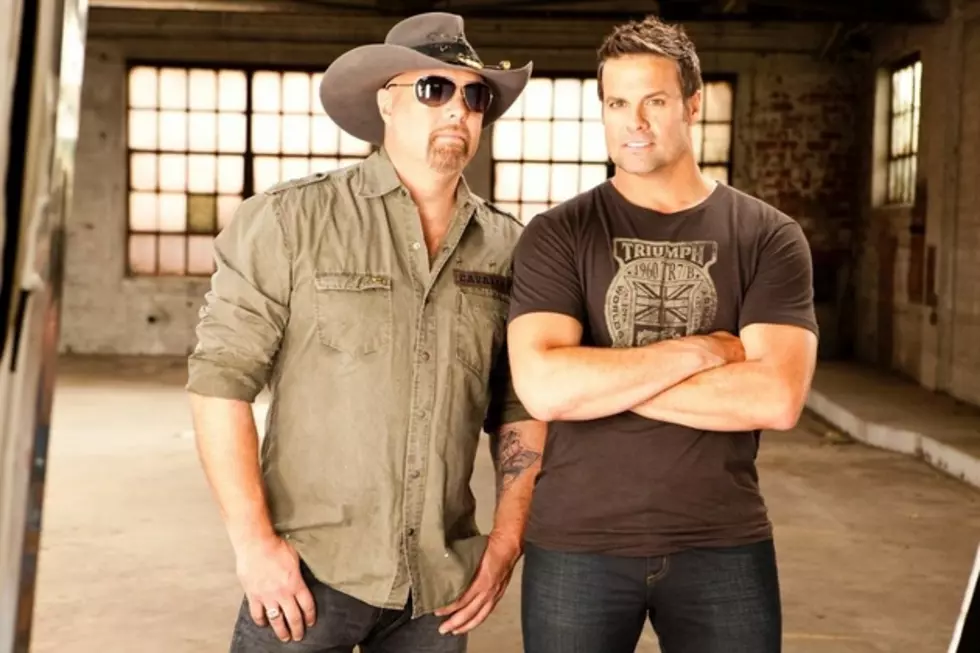 Montgomery Gentry Sign With Blaster Records
Courtesy of EB Media
Montgomery Gentry have found a new label home. The duo, consisting of Eddie Montgomery and Troy Gentry, have just signed a deal with Blaster Records.
"We couldn't be more thrilled about welcoming Montgomery Gentry to the Blaster Records family," Blaster President Derek Simon says in a press release. "Eddie and Troy are proven hit makers and consummate professionals. We can't wait to get started, and look forward to a very successful run together."
Montgomery Gentry shot to fame with the 1999 release of their Platinum debut album 'Tattoos & Scars,' which featured the hit singles 'Hillbilly Shoes' and 'Lonely and Gone.'
That began a run of hits including 'My Town,' 'Speed,' 'Something to Be Proud Of' and 'Some People Change.' In 2010 they left Sony, and in October of 2011 the duo released 'Rebels on the Run,' their first project for Average Joes Entertainment. In October of 2012 Montgomery Gentry released the digital-only EP 'Friends & Family,' which featured the divorce-inspired 'I'll Keep the Kids.'
The duo have tapped producer Michael Knox to produce their upcoming first album for Blaster, which they expect to release in 2014. Knox -- whose credits include Jason Aldean, Trace Adkins, Thomas Rhett and the ABC hit show 'Nashville' -- previously produced Montgomery Gentry's Top 10 hit, 'Where I Come From.'
"Eddie and I couldn't be more excited to be on the Blaster roster," Gentry says. "Signing with these guys was a no brainer for us when we saw the team they have to put around us. It's a great bunch of people that we look forward to working with."
Montgomery adds, "Man, I can't say enough about the Blaster guys and we haven't even cut the album yet! I can already tell this is going to be an awesome ride!"