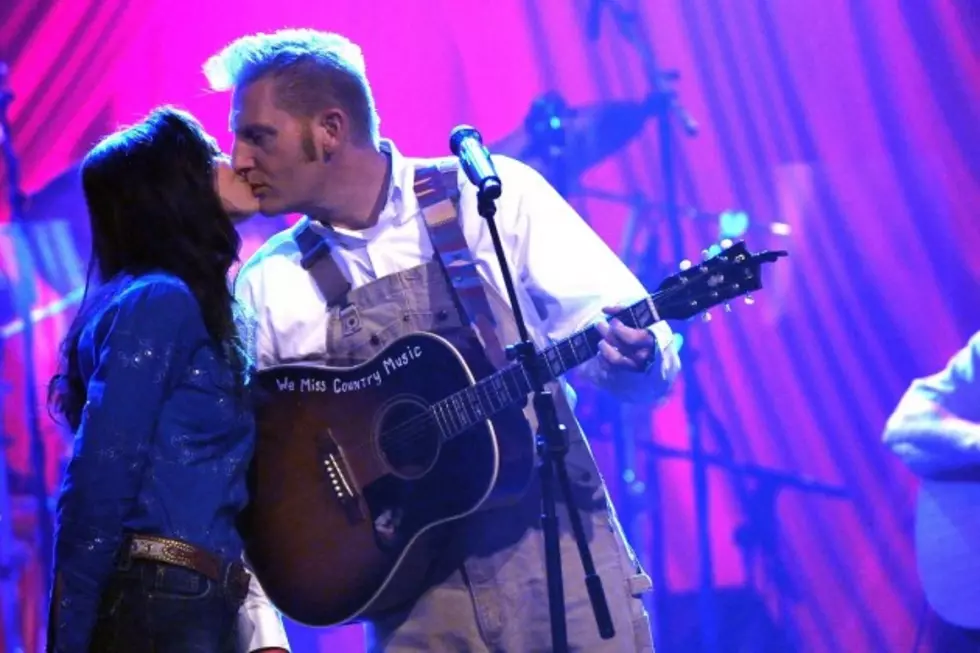 Joey + Rory: 'Things Have Started Leveling Out' Before Next Stage of Joey Feek's Cancer Treatment
Rick Diamond, Getty Images
"We've just been enjoying being together at home, and every day of every week since Joey got out of the hospital has had some ups and downs," Rory Feek writes in his newest blog post. "But as of about a week ago, things have started leveling out, and it's now easier to see where we are and where we're headed from here."
While a recent post-operation checkup revealed that Joey Feek is "doing wonderful," her husband says that she had "a very rough start."
"For almost two weeks after her surgery, Joey could barely eat anything. Between the medicine she was on and the nausea it caused, she had very little strength, and her weight was dropping daily," Rory Feek reveals. "After finally bottoming out at a frail 108 pounds, her appetite and her energy level finally started coming back. And though she still has a long road ahead of her, she's gained a few pounds back, feeling so much better, and it shows."
Feek adds that his wife "hasn't felt up for many visitors since she's been home," but both of her parents have come to spend time with them, and countless friends, family and neighbors have helped them keep up their garden, delivered meals and sent cards, flowers and gifts. The country duo also has two sold-out concerts scheduled in their farmhouse concert hall on Friday and Saturday (Aug. 7 and 8, respectively).
"Joey is excited to walk across our driveway and see everyone and do some singing. She's not sure yet how much energy she'll have or how many songs she'll be able to do … but even if it's just a couple of songs, it's going to be special to see her sweet smile and hear her beautiful voice again after all she's been through," Rory Feek continues. "… and standing right next to her, I'll have the best seat in the house to watch it all."
The Feeks will head to the Cancer Treatment Center of America's Atlanta location on Aug. 16 for Joey Feek to begin 4-6 weeks of chemotherapy and radiation; she'll be receiving radiation daily and chemo once each week.
Stars Who've Suffered Unthinkable Tragedies