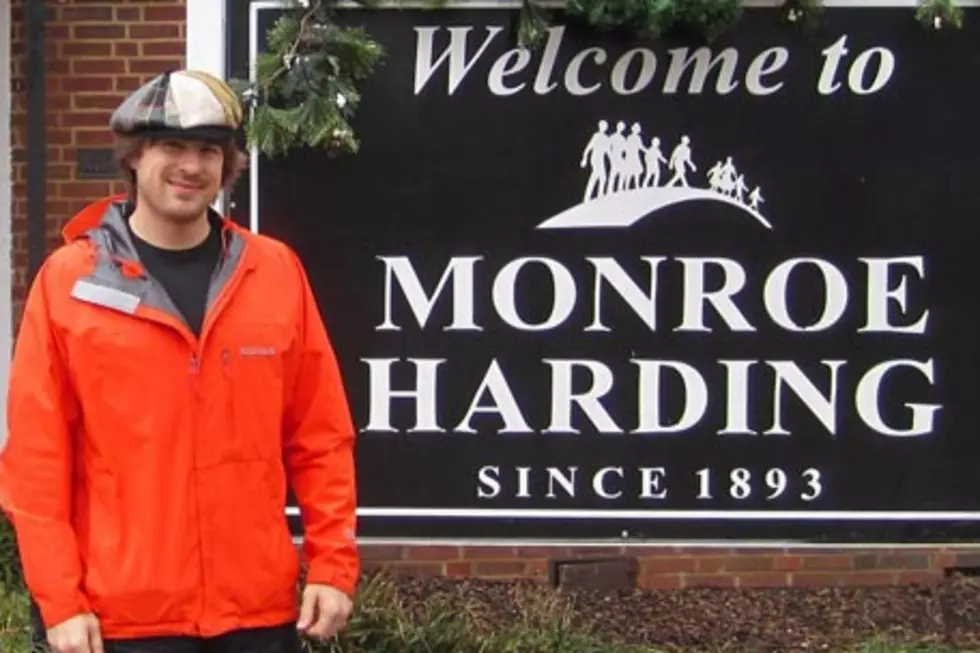 Jimmy Wayne Celebrates Anniversary of Walk Across America
Alanna Conaway
New Year's Day marked the one-year anniversary of Jimmy Wayne's start from Monroe Harding youth home in Nashville, Tenn. heading on foot toward Phoenix, Ariz. for his project Meet Me Halfway solo-walk across America, raising awareness for teen homelessness. To commemorate the anniversary, The Boot sat down with the singer at the youth facility, only this time to discuss how far he's come in a year.
"I was thinking about it when I was driving here today," Jimmy tells The Boot. "The first thing I thought about was my body feels like I've walked already today. [laughs] You can't walk seven months straight and that not have some type of effect on your body. It breaks you down physically. It's taken a while for me to re-coop. My foot still hurts [after breaking it in Arizona]. I wanted to walk a little bit today, but I got to thinking about it, and I thought the walk was to raise awareness for the campaign. If I walked today, it's to raise awareness for the fact that I walked, which is not the reason to walk.
"Today, I don't feel the same way I did last year at this time," he continues. "I don't feel like walking across America. I just don't. But last year, there was something that happened -- not that I'm burned out or anything -- it was a time in my life. What I try to get people to understand is it was during a time when I would have been sitting in Nashville writing songs. It wasn't like I was sacrificing shows or I was giving up gigs or anything. I was going to be sitting here anyways. I'm one of those people I can chew gum and walk at the same time. I was like if I walk, I can write, and I can possibly come up with a song idea. Why not do it? It made perfect sense. I wasn't putting myself out in any way. I was just raising awareness."
The amount of awareness raised by Jimmy's effort exceeded everything he could have ever wished to have happen. "I think if we accomplished one third of what we accomplished in 2010, it was a success. We accomplished what I set out to do in the first month. I said if there's one kid helped, it's worth the whole walk. That happened within the first month. Then the fact there was so much involvement with radio stations and media, so much awareness was generated."
The walk concluded in Phoenix, Ariz. at HomeBase Youth Services August 1, 2010. Although he didn't anticipate it taking seven months to complete, looking back he wouldn't change a thing. "I'm glad I did it," he says. "Every single thing about the walk was perfect to me. It's like I still haven't come down off of the high of it. It's the biggest thing that I've ever done. We raised so much awareness. I could have played music for another 20 years and still wouldn't have raised that much awareness.
"A lot of people ask me why I chose to walk instead of playing a show or something like that. I don't know why, but I do know this; I look at it like fishing. Some of us can sit on the bank and fish or some of us can go deep-sea fishing. There's a big difference. Sitting on the bank is fun and it's safe, but going deep-sea fishing, you've got some challenges going on, but you may catch the bigger fish."
While he isn't looking to walk across multiple states this January, Jimmy is focused on keeping the awareness going strong. Although, he does admit that he misses many aspects of walking the backroads of America. "I think the part I miss the most is the people," he says. "I miss those people out there on the road who cherished one another."
In February, Jimmy will head into the studio for the first time since the walk to lay down tracks for his full-length album inspired by the journey. Jimmy is confident that the new music will touch his fans and remind them of the reason he moved to Nashville more than 12 years ago.
"2010 has been the most successful year of my career by far," Jimmy notes. "Meet Me Halfway opened so many doors. I had been wanting to be part of [CBS special] 'A Home for the Holidays' for seven years. I had a three-week No. 1 [with 'Do You Believe Me Now'], and I had done so much charity work over the years. It wasn't until this walk that I was invited to be part of that show. It wasn't anybody getting me on that show. It was someone was aware that I was walking for these kids, and they told somebody who told somebody. It wasn't a song that did it. It wasn't a team of people here in Nashville that did it. It all happened because of that walk. For that, I am grateful."