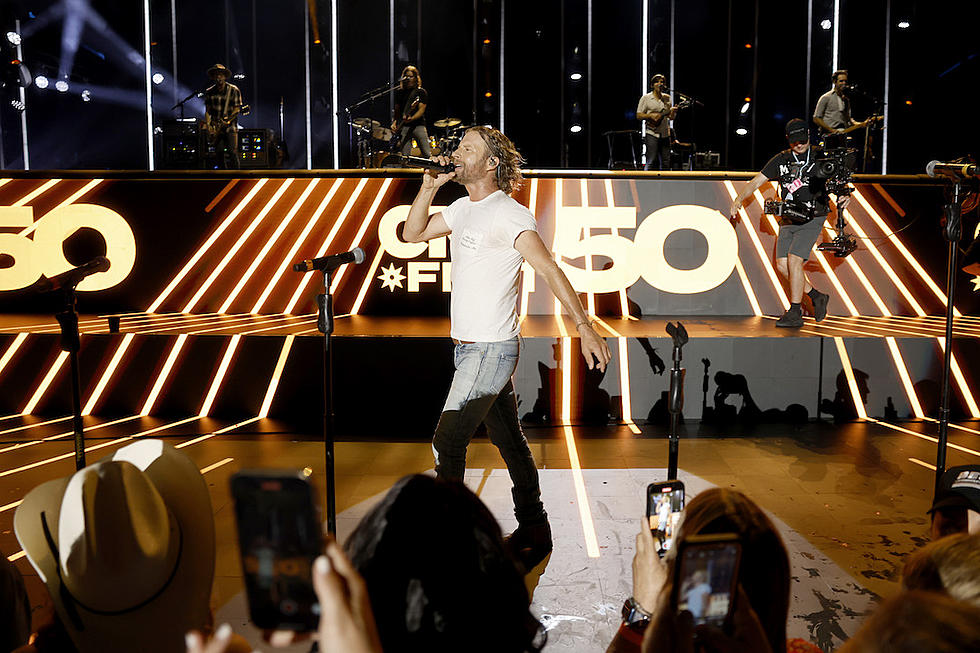 CMA Fest's 50th Anniversary Documentary to Air on ABC
Getty Images
After premiering on the streaming service Hulu on Wednesday (July 5), CMA Fest's first-ever full-length documentary is getting its very own major network broadcast slot.
CMA Fest: 50 Years of Fan Fair takes a look back at the Nashville-based country music festival's history, scrolling back to its humble early years at Music City's festival grounds. Back then, it was known as Fan Fair, beloved not only for its spread of A-List country performance but also for its one-of-a-kind fan interactions. It was at the 1996 Fan Fair that Garth Brooks famously signed autographs for 23 hours straight — as legend has it, he didn't even stop for a bathroom break!
That's just one of many artist-fan stories associated with the festival, a Nashville institution that's grown bigger and glossier over the years, but never lost its fervent fan appeal. These days, the event takes place at venues across downtown, with each evening's headliners performing mini-sets at Nissan Stadium.
But especially in 2023 — which marked CMA Fest's 50th anniversary — the festival has never stopped paying homage to its fan fair roots. This year, merch tables sold vintage-inspired shirts commemorating 50 years of CMA Fest, and artists reflected back on their earliest Fan Fair experiences, whether they were performers during those early years or attending the event as festival-goers.
CMA Fest: 50 Years of Fan Fair is just one more way to commemorate the moment, providing a retrospective on how Fan Fair has impacted country music and the city of Nashville through the decades. The documentary features content from festivals past and interviews with performers such as Brooks & Dunn, Wynonna Judd, Luke Bryan, Miranda Lambert, Reba McEntire, Dolly Parton, Blake Shelton, Carrie Underwood and Keith Urban.
Viewers already have the chance to watch the documentary on Hulu, but very soon, they'll be able to watch it on television, too: CMA Fest: 50 Years of Fan Fair will air on ABC on July 18 at 9PM ET.
Dierks Bentley and Lainey Wilson are featured in the documentary, too, and both those artists have been very involved with CMA Fest this year. They co-hosted the CMA Fest TV special with Elle King, another 2023 CMA Fest performer.
The special, which recaps all the highlights and best performance moments from the festival, is due to air on ABC just one day after the documentary broadcasts: It'll premiere July 19 at 8PM ET on ABC.
Pictures: 2023 CMA Fest, Days 1-4
See pictures from Day 1 of CMA Fest 2023. The 50th annual CMA Fest in Nashville featured Nissan Stadium performances from Luke Combs, Carly Pearce, Dan + Shay, Tyler Hubbard and more. Plus pictures of Lainey Wilson with Lauren Alaina and Lukas Nelson.
Day 2 features highlights from Tanya Tucker, Lainey Wilson, Cody Johnson, Miranda Lambert, Jelly Roll, Keith Urban and Hardy.
Day 3 includes photo highlights from Tracy Lawrence, Jason Aldean, Little Big Town, Old Dominion, Jon Pardi and Eric Church.
Day 4 featured performances by Josh Turner, Ashley McBryde, Dierks Bentley, Tim McGraw and Luke Bryan. Plus, Alabama received the CMA Pinnacle Award.