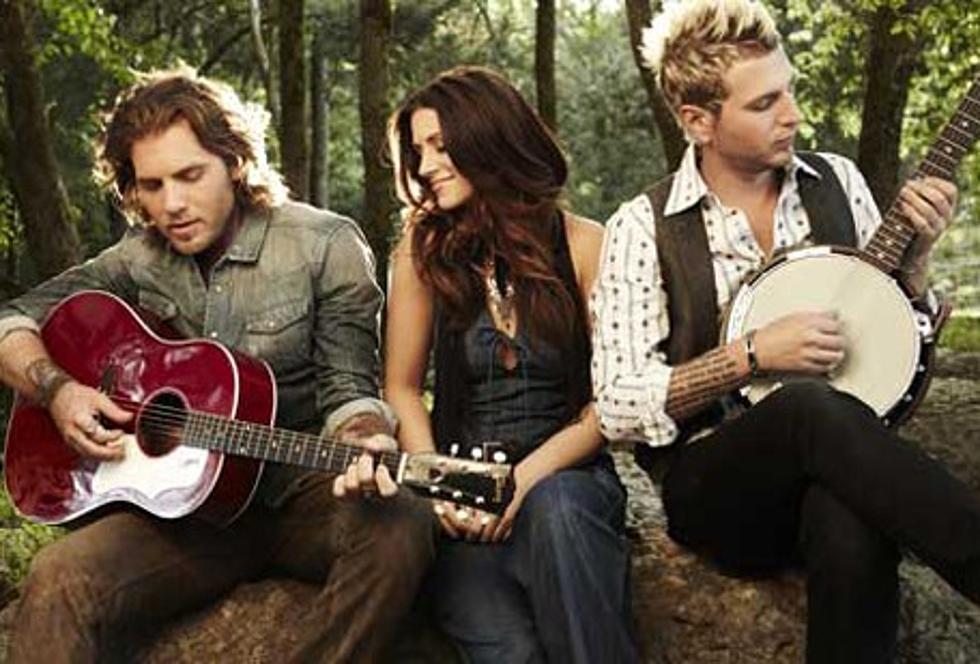 Gloriana's Musical Journey Comes Full Circle
Warner Music Nashville
Gloriana soared to fame with their self-titled debut album in 2009, thanks to three Top 40 singles, an American Music Award for Breakthrough Artist of the Year and an opening slot on Taylor Swift's globe-trotting Fearless tour. The group, which began as a foursome, went through a sudden, unexpected change when band member Cheyenne Kimball abruptly left the band this past July. Now the three remaining members -- brothers Tom and Mike Gossin and Rachel Reinert -- are getting ready to release a new studio album, 'A Thousand Miles Left Behind' -- quite a fitting title given that they are much more concerned with what lies ahead than the unanswered questions of the past. Gloriana sat down with The Boot to talk about their new music, what life is like for them on the road and how they've handled losing Cheyenne.
Are you at all worried about the dreaded "sophomore slump"?
Tom: I feel like all you can hope to do in your sophomore album is advance your songwriting and advance your musicality better than your first album. We all agree that we definitely did that with this album. We love the first album, but that was then and this is now for us. Our lives have changed so much. We're the same people at our core, but our environment that we live in is so drastically different. This album is like a documentary of what's going on. I feel like we definitely deliver. I hope people think so, too.
Besides the obvious change of now being a trio, how is 'A Thousand Miles Left Behind' different from your debut?
Tom: There's still that Gloriana thing that people will recognize from the first record, but being that we've grown so much over the past three years since we started the album, and we've been on tour the whole time, our lives really changed drastically. As we've grown up, our sound has evolved. It's still us, just the next chapter of us.
Tell us about the mix of emotions you must've had when Cheyenne suddenly left the group.
Mike: It was out of the blue. We weren't expecting it. But all in all, in the end, we feel like we're getting back to our roots. Tom and I moved here from North Carolina and met Rachel first. She let us move into her house with her because we didn't have any place to stay. That was really the core and the heart of the band, how we all started here in Nashville playing bars. After everything that happened and what-not, we really feel like we're getting back to the core of this band and our roots.
Rachel: After she left, it was a very scary time for us, not knowing how everyone was going to react, or how our fans would react or anything like that. So for us, it kind of reignited this fire in us of "we're going to move on from this, the three of us." It just kind of gave us another whole level of passion and excitement and drive to carry on and to really realize what it is that we want -- and more than anything our commitment to each other as a band, and our commitment to country music. I think for us, it was reigniting that fire.
Mike: The support has been amazing. We have to thank all the fans, and all of our friends at radio. We've gotten so many calls. It was emotional for us.
How did you adjust to going from a quartet to a trio?
Tom: When you're trying to get four voices into one little spot where there's no spot for voices, now there's only three in that same-sized spot, each voice has that much more room to breathe. We really dig it. We were kind of pleasantly surprised when we started doing it.
Rachel: The sound has opened up for us. Even going back and reworking the record and hearing how the songs turned out with the three-piece harmony, it felt more organic. It felt like you could really hear and understand the words and the lyrics. A lot more space [was] created.
'A Thousand Miles Left Behind' was already recorded before Cheyenne left. What changes did you make to the album to reflect your new sound?
Tom: We made the decision a couple days after that we're pressing forward, we're going to retool the album, we're going to still put it out. I think after putting out [our current single] '(Kiss You) Good Night' and seeing the response ... people really dig the sound of us as a three-piece. That reassurance is really awesome for us, knowing how hard it was for us to go through this. It feels like a mountain that has been climbed and passed, and now we're moving forward. I think we've all been looking forward to the day where it felt like old news. And it finally feels like it's here. We redid the whole record -- just one [song] Cheyenne had written we obviously didn't use -- the rest of them we just retooled and re-purposed ... We did our first album in 2009, it was four of us. I think the sound of the first album was indicative of the four of us. Everybody brings in their own personality. And now ... it's a whole different sound. It's kind of a whole different conglomeration.
Why was it important for you to write all the songs on the album?
Tom: We have a lot to say. When we started, Rachel had been doing songwriter nights and all kinds of stuff since she was 15. Mike and I had been playing bars since I was 16, and this was 11 years later. We all did that forever. Our lives were so the same for so long, and then we jumped onto this train with Gloriana and did the Taylor Swift tour, and our lives did a 180 overnight. This album is basically our documentary of, "OK, here's what that was like." We thought about what that would be like our whole lives, to make it, and now we finally are. These songs for this record came from a place of, "I have a lot to say. Here's what it's like: I don't see my friends anymore. I don't go to my local bar. I miss my girlfriend or boyfriend, but at the same time, this is so awesome."
Rachel: I don't think it was necessarily that we were not open to other songwriters' songs. It just kind of turned out this way. We felt really strong about the songs we had written, so that's how it came to be.
Mike: We write from our heart. This is true to us. This is our life story for the past three years, and that's what we love to do. And we hope the fans love it and enjoy it, too. That's our whole thing -- making music for our fans and being true to ourselves.
Tom: We've been songwriting on the road, throughout all these experiences. Some of these ideas and songs we had had just stored away, waiting in the song pot, until we got to the actual, "OK, let's take a month or two or however long it takes to put down these songs for the record." So as these experiences are happening, as we're in Australia or in the Middle East or playing for the troops, there's all these ideas we're storing.
One of the highlights of your career had to have been playing for 'The Motown Sound: In Performance at the White House.' What was that experience like?
Mike: It was funny. The whole time you're walking around, it's goofy, but I went to the bathroom and I'm like, "I'm probably being watched right now. This is creepy, but this is awesome!" ... I was gonna steal something but I thought, "There's probably a camera in here somewhere!"
Rachel: I was so nervous, though. [President Obama] was literally sitting four feet away from us, so that definitely was very, very, very nerve-wracking. But such an incredible, fun, amazing, once-in-a-lifetime experience for us. We hope to get invited back sometime.
You're very open about your support for the troops and have performed for them on several occasions. Why is that so important to you?
Tom: We went over to the Middle East last November, and we were on an MWR [Morale Welfare Recreation] tour, which is not quite like the USO. MWR, you're with the troops and you kind of live their life. There's no fancy hotel. We did all military transportation. It was awesome and so hard and so eye-opening. Just the range of emotions we felt after getting back. When I say we're different people, that's one of the main experiences. We wrote a song for this album called 'Soldier's Song.' Watching the news and hearing about the war is one thing, but being on the front lines for two weeks, sleeping only a couple hours a night and waking up on a ship -- we have a whole new respect for the whole thing.
Rachel: We actually, in some cases, roomed with some of these men and women when we slept overnight. It was really, truly so eye-opening. I remember I spoke to one woman that we stayed with on the ship, in her sleeping quarters. She was telling me she had kids and a husband. I asked her if she ever got to see them or speak to them, and she's like, "Not really." That really kind of hit home to me, just knowing they don't have cell service out there, or internet, or anything like that. But also in the same respect, they have such a wonderful, positive attitude, and they were so grateful that we were there to play for them. We were like, "No. We're grateful to you."
Mike: We were fans of them.
What is life like for you as a band on the road?
Tom: We have our whole crew on the bus. We've always traveled that way. It's usually about 12 people on the bus.
Rachel: And I'm the only girl ... It's actually totally easy. We have our routine. We wake up in the afternoon. We go out into the front lounge. We hang out, we drink coffee, we eat cereal. We watch our shows or movies or whatever. We talk. And then everyone kind of goes off and maybe works out or goes for a walk or does their thing later in the day. Then we all come back together while we're getting ready for the show. We play the shows. Everyone comes back and hangs out on the bus and talks about how the show went, and talks about their night, and then everyone kind of slowly makes their way to bed. It's very mellow. We all have a great time with each other.
Mike: Our whole vibe is this family vibe. Everybody is equal on the bus. We are one big family. Down to the guy who's loading in the guitar amps. That's really cool for me. I really like that. It's kind of what we try to build around -- positivity and family vibe on the bus.
What are some of the difficulties of living on the road?
Rachel: We both [points to Tom] try to be as healthy as possible. A lot of times, especially when we're playing fairs -- and we play a lot of fairs -- you're kind of stuck with fair food. Fried Oreos are totally awesome, but not when you're trying to stay in shape. We live off of Special K cereal. It definitely makes up at least two meals a day.
Tom: Mike's in the corner eating a hot dog and a burger.
Rachel: I think we're going to get scurvy because we're not getting enough nutrients!
The video for your first single, '(Kissed You) Good Night' shows plenty of chemistry between you. Rachel, do fans ever suspect that you're dating Tom or Mike?
Rachel: They always ask, but it's funny. We're really, truly, seriously, sincerely like brothers and sisters. It's been like that since day one with the three of us, ever since we started this band. So, it's just kind of like an onstage kind of chemistry that I think we all have with each other, but strictly platonic.
Tom: This song, especially, because it's so movie-ish. It's like playing characters. It's like you get into the character of the song.
if(typeof AOLVP_cfg==='undefined')AOLVP_cfg=[];AOLVP_cfg.push({id:'AOLVP_us_1049815722001','codever':0.1,'autoload':false,'autoplay':false,'playerid':'61371447001','videoid':'1049815722001','publisherid':1612833736,'playertype':'pageload','width':476,'height':357,'videotitle':'Test','bgcolor':''});