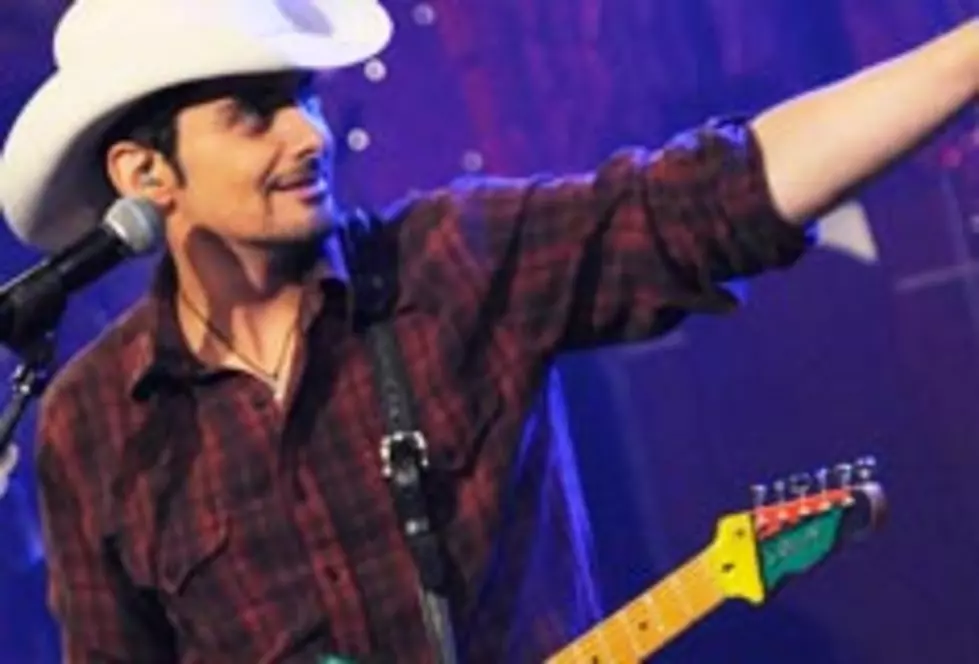 Brad Paisley Performs 'Live on Letterman'
Jeffrey Staab, CBS
Brad Paisley performed an hour-long set for lucky New Yorkers last night at the Ed Sullivan Theater. For those not in the Big Apple, the concert was streamed live for CBS Interactive Music Group's 'Live on Letterman' webcast, allowing fans to watch the set in its entirety on CBS.com. (Watch the rebroadcast of the concert below.)
Moments before he took the stage, Brad tweeted, "About to go on here at the Ed Sullivan theater. Like the Beatles. Sorta."
Though he's in Manhattan for the next few days promoting his new greatest hits compilation, 'Hits Alive,' Brad never feels too far from home. "On the way in here, when we were coming in from the airport, we were in an SUV. Low and behold, somewhere right after we got out of the tunnel, we hit this little patch of mud. I don't know where in the hell that came from. It wasn't quite big enough to have much fun with with your truck, but it made me miss home," Brad said before singing his huge hit, 'Mud On the Tires.'
Complete with a full band on keyboards, banjo, guitar, bass, fiddle, steel guitar, drums and a guest appearance by Letterman band leader Paul Shaffer, Brad performed several of his most beloved songs. The energetic 'American Saturday Night' had the entire theater on its feet, while the beautiful 'She's Everything' slowed down the night. At times, it seemed as if the audience was in church as they rotated between standing during the upbeat numbers, including 'Ticks' and 'Alcohol,' and sitting for the ballads. During the exquisitely romantic 'Then,' Brad even joked, "Be seated," before he informed the audience, "Here's the makeout song now." Romance aside, Brad had everyone in the room clapping and dancing along, many who came clad in cowboy hats, boots, and flannel shirts.
Each tune impressed with minute-long instrumental interludes. Whether it was Paul on keyboard, Brad alone on acoustic guitar during the powerful 'Anything Like Me' or shredding his guitar near the edge of the stage, the performance was a special treat.
"Let me be the first to wish you happy holidays. It's pretty much here, isn't it? It's great to be up here this time of the year when it's not quite that cold yet," Brad said. "We're going to try and do our Christmas shopping now so we don't have to deal with that. I love New York City; it's such a pleasure to be in the greatest city alive."
Between the release of 'Hits Alive' this week and co-hosting the CMA Awards next week, Brad won't be too hard to find. Watch his complete Live on Letterman performance below.