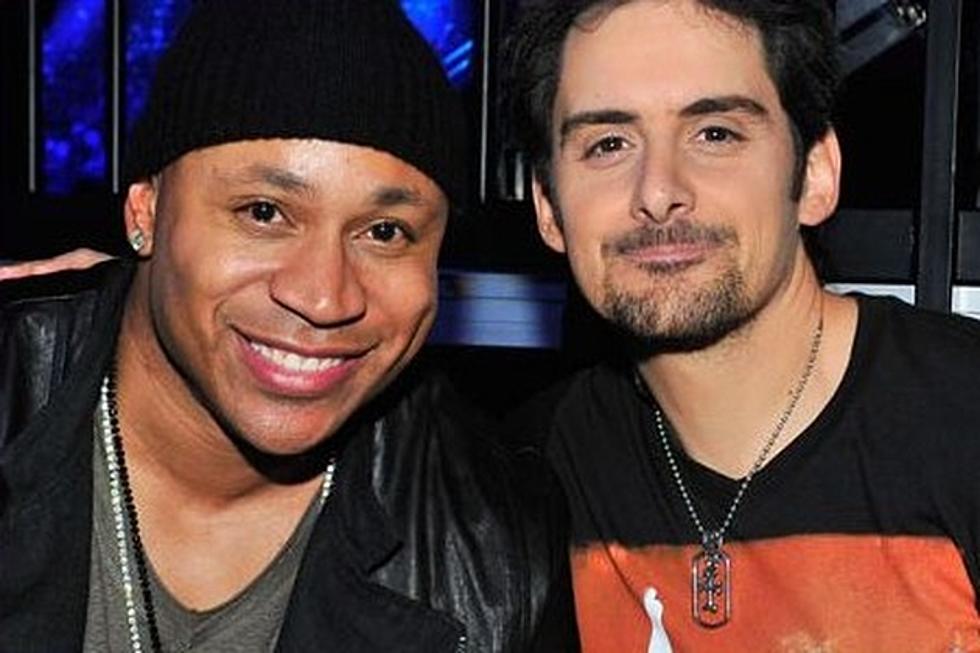 'Accidental Racist': Brad Paisley Defends Controversial Duet With LL Cool J (Exclusive)
Jerod Harris, Getty Images
'Officially Alive,' the last song on Brad Paisley's new 'Wheelhouse' album opens with the line, "So you ruffled some feathers, yeah, you've done it now." Now that's an understatement. In light of the firestorm of controversy that erupted last week over "Accidental Racist," his duet with LL Cool J, Brad has done more than ruffle feathers; he's ignited a heated national dialogue.
Brad knew he was taking risks with some of the songs on 'Wheelhouse,' and before the album released, he told the Boot that he was unsure of how people would react to the song. "I have a feeling it will vary person to person on what they think of it, but I cannot make it for that reason this time," he told the Boot. "I can't say, 'This one is going to get you to feel this.' I don't know. All I can say is, 'This is how I feel. This is what I feel like.' I'm going to represent this side of a very, very delicate situation right now. [LL Cool J is] going to represent the other side of that same situation. We are going to ask the question, not answer, but we are going ask it."
Earlier in the week, Brad tweeted, "Cause I wouldn't change a thing. This is a record meant to be FAR from easy listening. But fun. Like life. Have a ball, y'all."
The seed for "Accidental Racist" was planted after Brad wore an Alabama t-shirt showing his support for the legendary country band. The graphic on the front of the shirt included a Confederate flag, which prompted someone on Twitter to call him a racist. The situation provided creative grist to examine race and perceptions. Brad co-wrote the song with Lee Thomas Miller, whose credits include Trace Adkins' 'You're Gonna Miss This,' Jamey Johnson's 'In Color,' Joe Nichols' 'The Impossible' and Brad's hits 'The World' and 'I'm Still a Guy.' Brad played the song for LL Cool J and invited him to be a part of it. The iconic rapper was excited about 'Accidental Racist' and wrote his rap portion of the song. (The two have become good friends and have also collaborated on 'Live for You' on LL Cool J's upcoming album 'Authentic,' due April 30.)
Both artists expected to stir controversy with 'Accidental Racist,' but no one could have foreseen all the criticism aimed at them, some of which has been needlessly mean-spirited. Gawker.com called it a "real, horrible song" while popdust.com said, "People of all races are joining hands and coming together as one to mock the song's colossal wrongheadedness."
There have also been many to come to Brad's defense, such as Peter Cooper's thoughtful article in Nashville's daily paper, the Tennessean, as well as fans who have also been posting and tweeting their support. Brad has had ample opportunity to share his thoughts on the controversy. He's made numerous appearances this week, including 'The Ellen DeGeneres Show,' 'The Tonight Show With Jay Leno,' 'Good Morning America' and ABC's 'Nightline,' where he and LL Cool J appeared together.
"Racism has been on my mind," Brad told Jay Leno during his Wednesday night (April 10) appearance. "Last year, we had some really powerful movies deal with it very well. We had 'Django' and 'Lincoln,' and the media deals with it all the time. I thought maybe it would be an interesting conversation between country music and rap music to deal with this subject between two individuals, in a loving and understanding way."
Brad went on to say, "In the song, really what we're trying to do is explore what happens when two people have a dialogue. The entire album, 'Wheelhouse' is meant to touch on some themes that aren't normally touched on in music, and in the context of this record, the song makes a little more sense. But it feels like when you take the song out of this record, it's like, 'What? What got him on that?' It's kind of unfortunate, but at the same time, maybe something good can come from this."
When an artist speaks their mind and shares their heart in an honest, thoughtful way that creates dialogue on a sensitive subject, that artist should be applauded, not vilified. In recent years, much of country music explored beer drinking, break ups and back roads. While there's nothing necessarily wrong with that, isn't it great to hear country music that incites this kind of passion and generates such conversation? It's not the first time Brad has made his audience scratch their heads and think, and it won't be the last. He has a gift. He sees the world through a unique lens and isn't afraid to share the view.
As he sings in 'Officially Alive,' "it's a tragedy to go through history and simply just exist / You're gonna realize how quick it flies by and everything you missed."
Brad makes the most of every moment, and I'm betting he's rarely felt more "alive" than now.