Wade Mainer, Bluegrass Pioneer, Dies at 104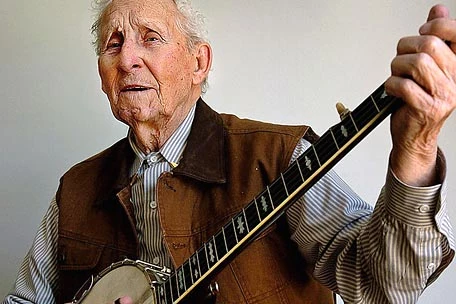 Wade Mainer, legendary bluegrass/old-time mountain musician and inventor of the two-finger-picking style of banjo playing has died. The Associated Press reports (via Billboard) that Mainer passed away at his Detroit-area home. He was 104.
Born near Asheville, N.C., where he honed his craft in early country music, Mainer later joined his brother J.E.'s Mountaineers group and recorded for many major labels throughout the 1930s. He moved to Flint, Mich., in the 1950s to work for General Motors, essentially giving up his music career for several years.
"Wade Mainer is the last of the old guard from the '20s and '30s to pass on," says bluegrass musician Ricky Skaggs. "Mainer's Mountaineers was a huge group during that time. They influenced the Monroe Brothers, the Delmore Brothers, the Stanley Brothers, Flatt and Scruggs, Reno and Smiley and countless other music groups from the South."
After abandoning the banjo for four years, Mainer was convinced to take up his instrument once again. "This is the only kind of music there is that's good listening and tells a story," the bluegrass man told the AP in 1991.
The centenarian is survived by his wife, Julia, four sons, one daughter, two grandchildren and three great-grandchildren.
Listen to Wade Mainer's 'Worried Man Blues'