Travis Tritt Hits the Big Screen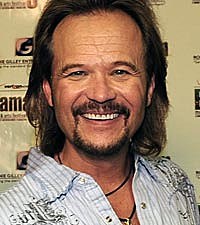 Travis Tritt is on location in Georgia, shooting scenes for the upcoming movie, 'Fishers of Men.' The Grammy-winning singer and part-time actor will play the role of Eddie Waters in the Christian-based tale of twin brothers who lead two very different lives. The movie is set in the 1950s.
Before Travis was chosen for the film, the production staff had at first considered full-time actor Sam Elliot and Travis' fellow country star, Alan Jackson.
"Travis is obviously very excited to play the role," says the film's director, Joshua Mills. "We've been talking to him off and on over the past few days about it … and it's definitely created a buzz around here. He's got a huge fan base in country music, as well as the south."
Alex and Graham Miller of 'Desperate Housewives' and 'Pushing Daisies' are also starring in the film.
Travis' first acting role was in the 1993 made-for-television movie, 'Rio Diablo,' followed by his appearance as a bull rider in 'The Cowboy Way' in 1994. Two years later, Travis played himself in 'Sgt. Bilko,' which starred Steve Martin, Dan Aykroyd and Phil Hartman. The singer also appeared in 'Fire Down Below' with Steven Seagal and Kris Kristofferson in 1997.
'Fishers of Men' will be released sometime in January 2011.