Tim McGraw, 'Austin City Limits' – Exclusive Behind-the-Scenes Video + Live Performance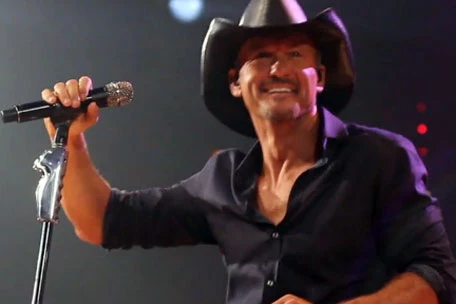 Tim McGraw will make his "Austin City Limits" debut on the iconic PBS television series this Saturday, Feb. 2. The music icon filmed the show before a live studio audience, treating them to some of his biggest hits, including "Live Like You Were Dying" and "Something Like That," along with brand-new songs such as "Truck Yeah" and "Mexicoma" from his Two Lanes of Freedom album, which hits stores Feb. 5.
"Country music has plenty of superstars to go around, but Tim has that special ability to make an emotional connection with his audience that is rare in any genre," says the show's executive producer Terry Lickona. "His first ACL appearance meant a lot to him; he told me it made him feel 'like a real musician – not just sort of smoke and mirrors.'"
"Austin City Limits" shares exclusively with The Boot Tim's performance of his current hit single, "One of Those Nights" on the ACL stage. Watch it in the first video player below, which is followed by a behind-the-scenes video of Tim, his band and wife Faith Hill at the show.
Click here for local listings to see what time "Austin City Limits" with Tim McGraw airs in your city.
Watch Tim Sing 'One of Those Nights' on 'ACL'
Go Behind the Scenes of 'ACL' With Tim McGraw