Sugarland, Kelly Clarkson + More Added to CMA Music Fest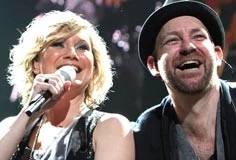 Sugarland have been added to the performer lineup for the 2011 CMA Music Festival, to be held June 9-12 in downtown Nashville. Additionally, Kelly Clarkson will join Jason Aldean for a performance of their multi-week No. 1, 'Don't You Wanna Stay,' and Alan Jackson will share the stage with the Zac Brown Band for their hit, 'As She's Walking Away.'
CMA Music Fest, which is in its 40th year, funds Keep the Music Playing, which supports music education in Nashville area schools. Since 2001, CMA Music Festival has raised $4.9 million for musical instruments and supplies.
Additionally, the nightly concerts at LP Field will be filmed for an ABC television special, airing later this summer.
2011 CMA Music Fest – LP Field Concert Lineup:
Thursday, June 9: Jason Aldean (with Kelly Clarkson), Easton Corbin, Sara Evans, Brad Paisley and Zac Brown Band (with Alan Jackson).
Friday, June 10: Sheryl Crow, Lady Antebellum, Martina McBride, Ashton Shepherd, Sugarland and Keith Urban.
Saturday, June 11: Trace Adkins, Little Big Town, Rascal Flatts, Reba, Josh Turner and Chris Young.
Sunday, June 12: The Band Perry, the JaneDear girls, Miranda Lambert, Darius Rucker, Blake Shelton and more to be announced.
Purchase four-day passes and single night tickets here.
if(typeof AOLVP_cfg==='undefined')AOLVP_cfg=[];AOLVP_cfg.push({id:'AOLVP_641898672001′,'codever':0.1,'autoload':false,'autoplay':false,'displaymnads':true,'playerid':'89761511001′,'videoid':'641898672001′,'width':476,'height':357,'playertype':'inline','stillurl':'dynamic','videolink':'#','videotitle':'dynamic','videodesc':"});