Steel Magnolia Remember Their First Time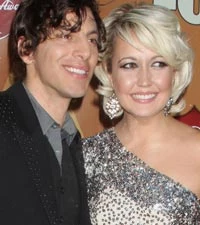 Meghan Lindsey and Joshua Scott Jones, aka Steel Magnolia, have been partners in song since their chance meeting at a karaoke bar in Nashville's Printer's Alley. After hitting it off, the duo joined forces in 2006 to try to make their way in a fickle music business.
After winning CMT's talent competition 'Can You Duet,' in 2009, Scott Borchetta, President and CEO of Big Machine Records, signed them to his high-profile label group, home of superstars Taylor Swift, Reba McEntire, Rascal Flatts, Martina McBride and Jewel. Not bad for a couple of young singer-songwriters who had been nursing their country music careers since their early teens. Although, when they heard their first single on the radio, it was a moment they will never forget.
"We were right outside Knoxville, Tenn. pulling into our hotel room about midnight when we heard 'Keep on Lovin' You' for the first time,' Meghan and Josh tell The Boot. "We were on a radio tour traveling around the country," Josh says, as Meghan affirms that story with a big "Yes!' "There was no one on the road so we pulled over to the side of the road to listen to our song," Josh continues. "We were on the road towards the parking lot. We got out of the car and we ran around the car a few times. It's called an Asian fire drill. Meghan and I got out and just cranked it up and stood outside the car and listened." "We were so excited!" Meghan giggles.
So did hearing the song on the radio give them a boost of confidence? "Absolutely," Josh says. "Not hearing the song on the radio was a great motivator. Once you hear it, that's a whole new burst of motivation in a different way. Then you have to say: OK, I want to do that again!
"It was nice to be able to hear your song on the radio without calling in and requesting it. We felt really excited because you've got to realize that when you're out of your territory — we were still in Tennessee, but when we heard it on national radio, we knew that we had come a long way. It was like years in the making … collectively it was 20 years [for us] working on it. It was a really good feeling but we knew we had a lot more work to do.
"We were happy about it, but I don't think we ever feel like we have made it. Even now I don't want to get too comfortable. We don't want to get lazy. I think part of that is you find your moments to be able to relax and you pat yourself on the back but I don't think that was one of them. I think it just made us want to work harder and get more songs out."

Next "First Time" Story