Scotty McCreery's Prom Date Has Familiar Face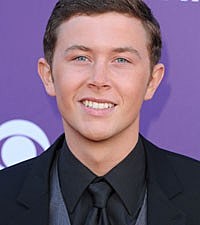 Scotty McCreery took a break from touring this past weekend to enjoy one of high school's most anticipated moments: senior prom. Saturday (April 21), the North Carolina native posted a picture on Twitter of his posse as they headed off to the Garner High event (see below). His date? Gabi Dugal, who played his romantic interest in "The Trouble With Girls" music video.
However, Scotty did have work on the brain while he was dancing it up. "I requested @Brad Paisley's song 'Then' as the one slow dance song of the night at prom yesterday. So thanks for yet, some more memories man!" he tweeted to his tour headliner on Sunday (April 22).
The 18-year-old also gave his prom companions a shout you when he posted this pic. They are (l-r) Jacob Bowes, Heather McClung, Gabi, Scotty, Mason Sawyer and Krista King. "They prolly had some trouble w/ boys tonight tho! hahah.. #twoleftfeet" Scotty joked on the social networking site.
As for the festivities themselves, the singer-songwriter retweeted Demetrius Fairley (@__DMACK__), who wrote, "At One Point Me & @ScottyMcCreery Were "Boxing" On The DanceFloor!.lol #CrazyDanceMovesGotTheJobDone!" and Ashley Ford (@class_ali3n) who posted, "senior prom was a success."
Apparently, it took Scotty a day to recover, as well. Before 9:00 PM last night he wrote, "about to hit the hay. still pretty beat from yesterday."
The high school senior is off the road until May, when he heads back out on Brad's Virtual Reality tour. His first stop back is in Maryland Heights, Mo. Get a full list of Scotty's concert dates here.
Watch Scotty McCreery's "The Trouble With Girls" Video