Sara Evans Joins Dog Park Appreciation Project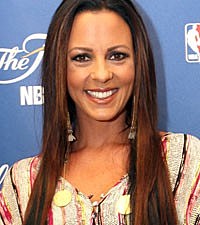 Sara Evans is looking out for her four-legged friends. The songstress has partnered with the Nutro Company for its Room to Run Dog Park Appreciation Project, which encourages pet owners to apply for grants that enhance local dog parks.
"When I was approached to work with this program, I was immediately excited because we have a dog that is the love of our lives," Sara tells She Knows of their family pooch, Roman. "He's very important to us, he's like our eighth child. One of my favorite things to do with him is to take him to the dog park to run. So I thought this was just such a great thing they are doing. You can go online and register to receive a grant to make your local dog park better with improvements. They are giving 30 grants to improve dog parks — it's a really cool project."
Dog owners can make their case for park improvements — spanning from repairs and maintenance to installation of new agility equipment — here. The deadline for applications is Sept. 31.
As for Roman, not only is he part of Sara's family, he's also the secret behind her slim physique.
"Spending time with my dog — he's a calorie burner," she reveals. "But I'm a tennis player — it's a sport that I picked up about four years ago. I've always been an athlete — I play all kinds of sports. I stay skinny by playing sports, mostly tennis, and I count my calories. I'm a firm believer in calorie counting. I don't think any food is off limits, but my thing is like, 'Stop eating so much!' When I cut back on eating, it works."
Sara Evans' new single "Anywhere" is headed to radio July 24.

Watch Sara Talk About Her Latest Album
#fivemin-widget-blogsmith-image-23795{display:none;} .cke_show_borders #fivemin-widget-blogsmith-image-23795, #postcontentcontainer #fivemin-widget-blogsmith-image-23795{width:570px;height:411px;display:block;}

try{document.getElementById("fivemin-widget-blogsmith-image-23795″).style.display="none";}catch(e){}