Robin Roberts' Friends 'Loved Her Through' Cancer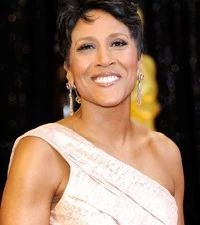 "I gotta tell you … when you're told you have cancer, you think life is over," confesses 'Good Morning America' co-anchor Robin Roberts. She triumphantly adds, "My friends, it is not."
The morning newscaster was first diagnosed with an early stage of breast cancer in 2007, but after extensive treatment, remains cancer-free today. The survivor credits her support system with helping her through the healing process. "Somebody loved me through this and I'm going to love someone else through it," Robin declares. "That's what we have to do for one another."
Robin shares her personal story in Martina McBride's new video for "I'm Gonna Love You Through It,' appearing alongside cancer survivors Sheryl Crow and Hoda Kotb. Fellow news reporter Katie Couric also appears in the video, sharing her own story of personal loss.
"Ultimately, it's a song about things that matters the most," says Robin. "For me, it's faith, family and friends."
'I'm Gonna Love You Through It' is the second single from Martina's upcoming album, 'Eleven,' due out October 11. The single is available at digital retailers beginning today (August 19).