Montgomery Gentry, 'The Revolution': Duo Give Tim Gunn a Fashionable Tour of Nashville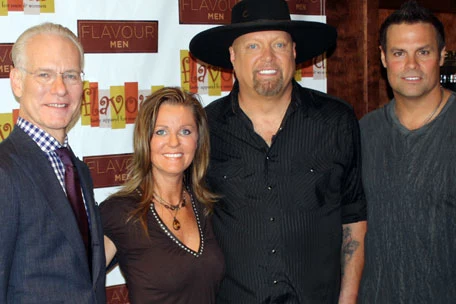 Montgomery Gentry became part of "The Revolution" recently when they introduced fashion expert Tim Gunn to some of Nashville's hottest clothing shops during his trip to town to tape an episode of the ABC show. The country duo took Tim on a shopping tour of several Music City boutiques, including Flavour for Men (whose Aimee Johns is pictured above) and Manuel's, where they perused the racks for the latest fashion trends.
Troy Gentry explained to Tim during their fashion tour of the city that he often finds many of his "country chic" pieces at Flavour, a boutique frequented by fellow stars such as Carrie Underwood, Luke Bryan, Blake Shelton and Kellie Pickler. Flavour is one of the few places in Nashville that will host private, in-store shopping opportunities and also does private in-home appointments, as well, no doubt making it a favorite of country's top stars.
Carrying the more traditional torch on the fashion front, Eddie Montgomery took Tim by the showroom of legendary designer Manuel, the man known for creating Elvis' signature gold lamé suit and for outfitting everyone from Bob Dylan to Johnny Cash with his one-of-a-kind, rhinestone-adorned works of art. Eddie introduced Tim to Manuel's daughter Morelia Cuevas, and the three toured Manuel's studio on Broadway, where he's been outfitting artists such as Marty Stuart and Dwight Yoakam for decades.
Tim Gunn's fabulous fashion adventure through Music City will air Thursday, April 26 on ABC. Montgomery Gentry has been busy on their own adventures lately, traveling the country making TV appearances and performing at tour dates. During their recent stop at Fox they talked about their favorite places to go on vacation and the advantage of being able to go incognito when they're not together out in public.
"That's one of the conveniences of being a duo," Troy tells Fox411. "That Eddie and I separate from each other and we can kind of skirt around things a lot better than if we're traveling together. They put two and two together and we get spotted more often. But when we're out on our own, we're not so much picked out."
Eddie admits he loves pubs and honky-tonks and anywhere with live music, even on vacation, and recalls a memorable side trip to Key West on his motorcycle, after an Orlando gig. But Troy prefers Hawaii and Colorado for his go-to getaways for sun, sand and great skiing. The two admit they'll even get up for an impromptu performance from time to time while on vacation, depending on how much fun they're having. Speaking of vacations, the duo will kick off the fun for thousands of country fans at this year's CMA Music Festival on June 7 at Nashville's Riverfront Park.

Watch Montgomery Gentry's "Where I Come From" Video
if(typeof AOLVP_cfg==='undefined')AOLVP_cfg=[];AOLVP_cfg.push({id:'AOLVP_us_1157745541001′,'codever':0.1,'autoload':false,'autoplay':false,'playerid':'61371447001′,'videoid':'1157745541001′,'publisherid':1612833736,'playertype':'pageload','width':476,'height':357,'videotitle':'Test','bgcolor':"});