Martina McBride's 'Hits and More' to Hit Shelves in January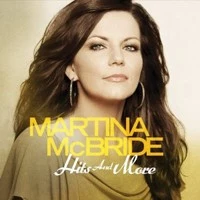 RCA Nashville is releasing its last Martina McBride album, 'Hits and More,' celebrating the angelic-voiced songbird's 20 years with the label. The compilation of both new songs and fan favorites, to be released Jan. 17, will feature the new tracks 'Surrender' and 'Straight to the Bone,' as well as 'Being Myself,' which was briefly made available on an EP sold exclusively at Target.
As an RCA recording artist, Martina accumulated 19 Top 10 hits, including the No. 1 singles 'Wild Angels,' 'A Broken Wing,' 'Wrong Again,' 'I Love You' and 'Blessed.' In total, she released nine studio albums, a Christmas collection and a 'Greatest Hits' package for RCA, selling more than nine million albums.
After leaving the label late last year, Martina signed with Republic Nashville, an imprint of the Big Machine Label Group. Her most recent release, 'Eleven,' features the Top 20 singles 'Teenage Daughters' and 'I'm Gonna Love You Through It.'
Martina McBride's 'Hits and More' Track Listing:
1. 'My Baby Loves Me'
2. 'Independence Day'
3. 'Wild Angels'
4. 'A Broken Wing'
5. 'Valentine'
6. 'Happy Girl'
7. 'Whatever You Say'
8. 'I Love You'
9. 'Love's the Only House'
10. 'Blessed'
11. 'Where Would You Be'
12. 'Concrete Angel'
13. 'This One's for the Girls'
14. 'In My Daughter's Eyes'
15. 'Anyway'
16. 'Ride'
17. 'Wrong Baby Wrong'
18. 'Surrender'
19. 'Straight to the Bone'
20. 'Being Myself'
Watch Martina's 'Independence Day' Video