Maren Morris Announces Debut Album, 'Hero'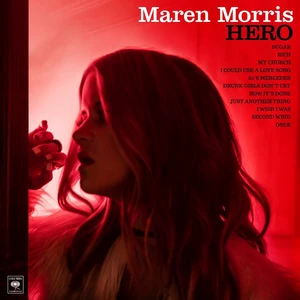 Maren Morris has announced the release of her debut album, Hero. The up-and-coming artist will release the record on June 3.
Morris co-wrote all 11 songs on Hero; she also co-produced the project with Mike Busbee.
"This record really encapsulates everything that's been bouncing around my head for the past three years. It's woven with every thread of my influences, which pulls from the country and R&B landscapes," Morris writes on Facebook. "… Who I am as an artist, a songwriter and a woman today has been carefully shaped over time on my journey from Texas to Tennessee. They say never meet your heroes, but what if you just became your own?"
A complete track listing for Hero is below. The disc contains Morris' single "My Church," as well as three more of the songs from her self-titled EP.
"I've come such a long way from who I was in Texas, who I am as a writer, who I am as a woman today," Morris says in a press release. "I think the message of this record is self-acceptance and -awareness, and that, to me, is heroic."
Maren Morris, Hero Track Listing:
1. "Sugar"
2. "Rich"
3. "My Church"
4. "I Could Use a Love Song"
5. "80's Mercedes"
6. "Drunk Girls Don't Cry"
7. "How It's Done"
8. "Just Another Thing"
9. "I Wish I Was"
10. "Second Wind"
11. "Once"
10 New Country Artists to Watch in 2016
Who Is Maren Morris?