Ludacris and Jason Aldean Become Fast Friends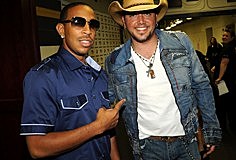 Jason Aldean says that he and rapper Ludacris are likely to stay in touch, especially since they exchanged phone numbers Wednesday night after the CMT Music Awards. Ludacris made his Nashville awards show debut when he joined Jason on the country star's hit, 'Dirt Road Anthem.'
"I never met him before, so we spent almost the whole day together, just talking and hanging out," Jason tells The Boot. "I wanted to make sure it wasn't weird when we actually got onstage together."
When Jason was approached with the idea of doing a song with someone from the hip-hop community, he said he told CMT it would depend on the artist invited. "Some of those guys are hardcore rappers, but guys like him are more mainstream."
When they offered the possibility of Ludacris, Jason then asked him to write a verse for 'Dirt Road Anthem.' When he heard what the performer had written, which referenced a six-pack on ice, a good southern breeze, Kenny Rogers and "Mr. Aldean, I call him Jason," the singer said he knew it would work.
The decision to pair Jason and the Atlanta-based rapper/actor (whose real name is Chris Bridges) was obviously wise, as Ludacris advised his fans of the event prior to the show, and has now posted video of the performance on his website, exposing a whole new group of fans to Jason and country music. Jason reciprocated on his site, and additionally, the collaboration of 'Dirt Road Anthem' is available on iTunes.
"I thought it went off great and I had a blast performing with him," Jason says. "We have each other's numbers and if I go to Atlanta, I'm definitely calling him. He's the mayor of that town, I think!"
Jason gave a rousing performance at the CMA Music Festival's sold-out LP Field show on Thursday night (June 9). He will be in Winstead, Minn. on June 11, then resumes his My Kinda Party tour with Chris Young and Thompson Square on July 8 in Milwaukee, Wis.