Lucy Hale Country Album Gets Serendipitous Support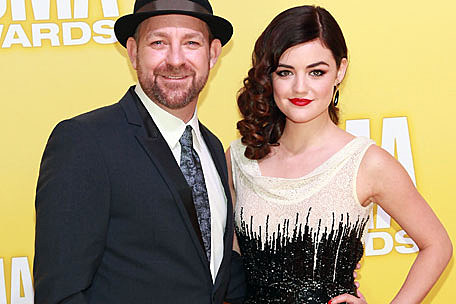 Taylor Hill, WireImage
While "Pretty Little Liars" actress Lucy Hale and Sugarland member Kristian Bush may seem like a bit of a peculiar match, the pair are kindred musical spirits. Ever since their first meeting at a group dinner with a few other artists, the two have been working on the 23-year-old's leap into the country world.
"There are all these moments that you always hear about other people having. They're like, 'Oh, yeah, I had dinner with so-and-so in Los Angeles,'" Kristian tells The Boot. "Sure enough, I find myself eating sushi with Lucy Hale. I'm like, 'What? How did this happen?' The whole time, Lucy and I were just fixated on each other. She was like, 'I really want to make a country record.' And I was like, 'Don't you do stuff on television?' And she said, 'Yeah, but I was on a talent contest. That's how I got here, as a singer.' It was like the kids' version of 'American Idol,' she was on it. I had no idea. She was like, 'And, I'm from Memphis and I love country music. I want to do this and I'm at a place in my career where I can speak up and say what I want to do.'"
Kristian admits he wasn't easy on Lucy at first, warning her, "'You need to know what you're getting into. It's a lot of work, and a lot of people are going to spend a lot of time, effort, care and support on it. You can't be a fly by night. You can't just come in and try it out. Being a tourist is not what we're into, being an artist is.'
"She was like, 'No, no, no, don't get me wrong,'" he recalls. "So I said, 'All right, let's write some songs.'"
The Memphis native was keen to work with the Atlanta-based singer-songwriter for her debut country album. "We've written a few songs together, and he's really taken on the role of mentor and great friend," Lucy tells The Boot. "He's given me some awesome advice, and I feel so lucky to have someone like him on my team. It's been a lovely experience."
The newcomer's commitment can be seen in how she's crisscrossed the country to work on this new venture. "She came to Atlanta to my studio, and we stayed for a bunch of days and wrote some songs," Kristian reports. "Then I went to L.A. and we wrote some more songs there. It's really turning out to be amazing. She's a great writer. She's going to be quite the artist."
The Sugarland member was especially impressed by what Lucy was able to undertake, given her filming docket. "I thought our schedules were rough, we've got it easy compared to TV schedules," he says. "Filming schedules are nuts — they shoot six, seven days a week, 20 hour days. It's crazy, but I did spring her to come to the CMAs in Nashville."
That November trip to Music City won't be the actress' last. "I'm going to Nashville next month to cut the record," she reveals. "We'll have it out by summer and a single in the spring. I'm working with some great people, and it's been a very positive experience."
She may be new to the country world, but Lucy has had experience in the studio. Not only did she record a tune for the "American Juniors" album — that "'American Idol' for kids" show she was on — she can also be heard on the movie soundtrack to "A Cinderella Story: Once Upon a Song," in which she starred.
"The music that I've had out so far was obviously very pop," she admits. "But when I signed with Hollywood records, I was like, 'I know that's the music you're familiar with, but that's not what I want to sing. I want to do country.' They were on board with it!"
However, the brunette beauty is quick to note that none of her roles have influenced her songwriting "at all." "It's all about my personal life," Lucy explains. "Starting out, I was a little timid and had to learn how to be vulnerable and open up and not be afraid to make a mistake. The reason I wanted to co-write was because I wanted to be believable."
The TV star has taken cues from her new musical mentor, as well as from her idols while readying her first album. "Some of it is more crossover, but we have a lot of songs that were driven by influences like Shania Twain, Martina McBride," she says. "Those are people I grew up with. In fact, Kristian and I wrote a song that straight up sounds like it should've been on a Shania Twain record. There's a little bit of everything."
Transitioning from one area of entertainment to another is never easy, though, especially when you don't want alienate old or new fans. "It's kind of bittersweet. The reason I have a record deal is because of my day job, but now I have that much more to prove," she recognizes. "There are people who've come before me who've tried and failed. There's a lot that makes me different, purely from the standpoint that I actually started out in music. There will be a lot of hurdles and speed bumps, but once people hear the music and hear what I have to say, their eyes will be opened up a little more."