Lady Antebellum Christmas Album Details Revealed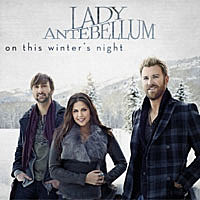 While fans anxiously await the release of a fourth studio album from Lady Antebellum, the group has a seasonal surprise in store, which would help explain the decor they chose while rehearsing tunes for that new collection! On Oct. 22, the Grammy-winning trio will release a Christmas album titled On This Winter's Night.
"I love the excitement, the childlike spirit of innocence and just about everything that goes along with Christmas," says the trio's Hillary Scott. "My little sister will be 12 this Christmas and it is always so sweet to see her wake up every Christmas morning and wonder what Santa brought her. It was that way for me growing up and it's so amazing to be able to spend that time with her now."
The new album will feature 12 tracks, including such longtime favorites as "Silver Bells," "I'll Be Home for Christmas," "The First Noel" and "Silent Night," the latter two specially arranged by Hillary and her bandmates, Dave Haywood and Charles Kelley.
"The perfect winter's night for me would be with all the family together," says Charles Kelley. "As you get a little older and everybody has their jobs and then families and kids, it definitely becomes harder to get everybody together at once. It would be pretty special to have the whole family in the room and get back to where we were as kids … all waking up on Christmas morning, walking down and having that tradition."
Thanks in part of their heavy Own the Night 2012 world tour schedule, the trio had to slate the recording of the album for the warmer months, but they made the best of the situation.
"It is always weird to be in the studio working on Christmas music in June and July," says Dave Haywood. "So we decorated the entire studio, we really did. We brought out lights, fake trees and decorated the place to get in the Christmas spirit. You'd leave the studio, and it'd be 100 degrees out in Nashville, but nonetheless, a great experience."
On This Winter's Night track listing:
1. "A Holly Jolly Christmas"
2. "Christmas (Baby Please Come Home)"
3. "All I Want for Christmas Is You"
4. "I'll Be Home for Christmas"
5. "This Christmas"
6. "The First Noel"
7. "On This Winter's Night"
8. "Let It Snow, Let It Snow, Let It Snow"
9. "Have Yourself a Merry Little Christmas"
10. "Silent Night (Lord of My Life)"
11. "Blue Christmas"
12. "Silver Bells"
Watch Lady A Talk Career Boosts
#fivemin-widget-blogsmith-image-121967{display:none;} .cke_show_borders #fivemin-widget-blogsmith-image-121967, #postcontentcontainer #fivemin-widget-blogsmith-image-121967{width:475px;height:351px;display:block;}

try{document.getElementById("fivemin-widget-blogsmith-image-121967″).style.display="none";}catch(e){}