Kenny Chesney's 'Come Over' Is 24th Career Chart Topper
Danny Clinch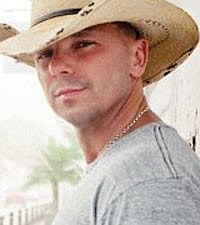 Danny Clinch
Kenny Chesney has long been melting hearts with his sweet country love songs, and the second single off his latest album Welcome to the Fishbowl is no different.
"Come Over" has become one of the biggest tunes in the Tennessee native's lengthy career, topping the country singles charts in a mere 11 weeks to become his 24th career No. 1 hit. Written by Sam Hunt, Shane McAnally and Josh Osborne, the sexy single was certified gold last week for digital sales exceeding 500,000.
"Come Over" is the second hit single off Kenny's new album, following his "Feel Like a Rock Star" duet with tourmate Tim McGraw. The buddies' Brothers of the Sun tour is the highest-grossing summer tour of any genre, according to Pollstar. Their electrifying show makes its next stop in New Orleans, La., this Friday (Aug. 3) and then in Houston, Texas, on Saturday.