Kenny Chesney, Tim McGraw Tour Showcased Longtime Friendship … and 'Naked' Videos?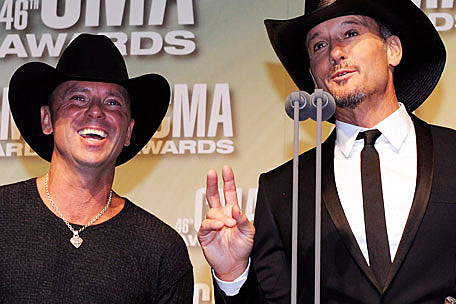 Kenny Chesney and Tim McGraw's friendship goes back — way back — to when they first moved to Nashville chasing their country music dreams. Fast forward two glorious decades later, and the recent Brothers of the Sun tour reunited the buddies for what was the biggest-selling tour of the summer in any genre.
"There was a connection that Tim and I had with the fans that was unbelievable," Kenny reflected backstage at last week's CMA Awards. "Plus, to be on the road with one of your buddies made it so special. The fans got to see us sing together. It's something that doesn't happen every day and we were excited to do it. It was just icing on the cake."
"For me, it was seeing Kenny naked on those videos every night," Tim added with a laugh, likely referring to the music videos — including the very sexy "Come Over" — that played behind Kenny on stage every night. "We used to play guitars, just sitting around doing nothing. In fact, at my first showcase I sang two of Kenny's songs, 'Tin Man' and … I forget the other one."
"It was forgettable," Kenny joked.
The longtime friends won the CMA's Musical Event of the Year honors for their recent duet, "Feel Like a Rock Star." It's not the first time the two have collaborated on an award-winning song. They recorded "Find Out Who Your Friends Are" with pal Tracy Lawrence, for which they also won the collaboration trophy in 2007.
"We've been friends for over 20 years, so when Kenny asked me to do this with him I jumped at the chance," Tim says of their high-energy duet. "To still be here kicking and making records together is amazing. We used to sit back in our apartments in the old days and play guitar, but we never dreamed about this kind of thing."
Kenny remembers the first time he met his future tourmate. "He was singing in a club in Printer's Alley, singing Keith Whitley songs," he recalls. "When he took a break, we had a few beers and our friendship went from there. For years, we talked about our dreams and we're still talking about our dreams. Our friendship is very special."
Watch Kenny & Tim's 'Feel Like a Rock Star' Video