Kacey Musgraves, 'Behind the Sessions' Video
Gino DePinto, The Boot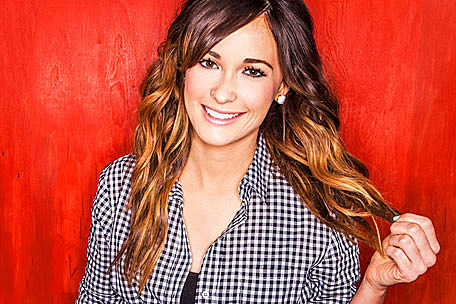 Gino DePinto, The Boot
"It makes me laugh," Kacey Musgraves tells The Boot when we ask about a term used to describe her time and again: "rebel." Spending the day with the introspective singer-songwriter in our New York studios proved to us a better term for her, "free spirit." The 24-year-old country star exudes an easygoing and unassuming persona fairly atypical for someone who came right out of the box to huge critical acclaim.
"I'm just ... me," she continues with a smile. "I think because I just naturally go against the grain of what's been out there previously, that's the only word (rebel) that they want to throw at me."
Kacey played several of those self-penned, against-the-grain songs from her debut album, Same Trailer Different Park, in our studio. Come back to The Boot tomorrow (April 18) to watch the brunette beauty perform "Blowin' Smoke," "Merry Go Round," "Follow Your Arrow," "Silver Lining" and "My House." In the meantime, check out a sneak peek of our day with Kacey in our special "Behind the Sessions" video below.
Go Behind the Scenes of Kacey Musgraves' Sessions
%VIRTUAL-globalVideoEmbed-{"videoIds":"517741840","width":"476","height":"298","sid":"577","relatedMode":"0","hasCompanion":"false","autoStart":"false","colorPallet":"#704000","videoControlDisplayColor":"#000000"}%