Justin Townes Earle, 'Maybe Baby' — Video Premiere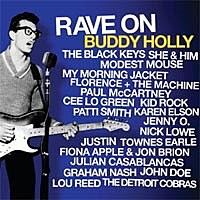 Justin Townes Earle is in enviable company in paying tribute to rock legend Buddy Holly on the new album, 'Rave On.' The compilation, due in stores June 28, features Justin's version of the classic, 'Maybe Baby,' along with other Holly covers recorded by Paul McCartney, Cee Lo Green, Patti Smith, Kid Rock, Graham Nash, Lou Reed and an eclectic mix of other artists.
Justin shares with The Boot this exclusive premiere of his video for 'Maybe Baby,' which gives fans a behind-the-scenes look at the making of the record. Watch it below, and check out the full 'Rave On Buddy Holly' track list here.
%VIRTUAL-globalVideoEmbed-{"videoIds":"517720562″,"width":"476″,"height":"357″}%