Justin Moore, NASCAR Help Honor Heroes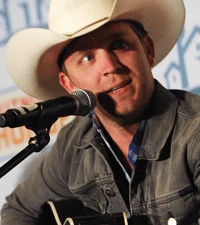 Justin Moore is heading to Daytona this weekend to perform for NASCAR's Daytona 500, but he's there for more than just a concert. The Arkansas native will help launch Crown Royal's search for the person who will receive naming rights for the 2013 Brickyard 400 in July as part of their Your Hero's Name Here program, and he couldn't be happier to participate in the worthwhile cause.
"We got to do it last year at the Brickyard, and it's cool because we're here to kick off with Crown Royal their annual Your Hero's Name Here,'" he explains to The Boot. "It's where fans 21 and over can go to CrownRoyalHeroes.com and nominate somebody who has made a difference in their life, and eventually the one who is chosen will have their name be the name of the Brickyard 400."
The married father of two says last year's event made a lasting impact on his life. "To get to meet and hear the stories of the gentleman who won last year, it was pretty touching," Justin recalls. "It was actually a firefighter from Alabama, and I got to be a part of telling him that he was the winner. It was a guy named Curtiss Shaver. He had lost a leg in an accident. Against ridiculous odds, he's done some incredible things … I wish we had the opportunity to do more of this kind of stuff, because we have a platform. This is just a really great idea, and it's pretty cool to be a part of."
The 28-year-old singer says that events like these make him appreciative of his own personal heroes, as well. "I've had a lot of people in my life that have shaped who I am and who I want to be, but if I had to pick one, it would probably be my Grandpa. I've talked about him a lot over the years. He had such a huge influence on me. He retired from the military and served our country. He led by example what a husband and a father is supposed to be, which is how I aspire to be like him."
As part of the Your Hero's Name Here official launch, Justin will nominate two Florida heroes who are making a difference in their own communities. To nominate your own hero, click here.
Justin will officially kick off his Outlaws Like Me tour on March 14, with Dustin Lynch and Jon Pardi serving as his opening acts. See all of his upcoming shows here, and come back to The Boot next week for more of our exclusive interview with the country star.