Julie Roberts' 'Sweet Carolina' Honors Her Alma Mater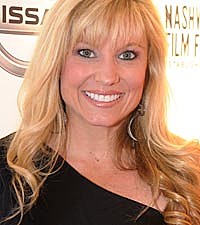 Julie Roberts has written and recorded a special song to honor her alma mater, the University of South Carolina. The tune, titled "Sweet Carolina," is part of the school's "Carolina Promise," which according to a statement from USC is to note it's "commitment — or promise — to students, faculty, staff, alumni, parents and the communities we serve that we will continue to lead the way to improve the quality of life for all in our state and world."
"I went to the University of South Carolina-Lancaster my first two years of college and received an amazing education and strong foundation for the rest of my life," says Julie, who was raised in Lancaster and moved to Nashville in 1999, completing her education at Music City's Belmont University. "I was raised a Gamecock fan and most of my family are graduates from the University of South Carolina."
Listen to "Sweet Carolina"
Julie is set to perform the song live May 10 in Columbia, S.C., at the official kick-off for the "Carolina Promise" campaign. The event will be streamed live online here.
"Writing this song for the University felt like something I was supposed to do," Julie says of the tune which was co-written and produced by Jason Collum. "The University has given my family so much and I wanted to help this campaign in a way that I could. It was fun thinking about the University, the students, the Gamecock fans, the alumni, the sporting events, and everything that makes me proud to call Carolina my home!"
"Sweet Carolina" is available now at iTunes (see link below) and CD Baby. The release is packaged with the original song and an acoustic mix, as well as instrumental versions. Julie plans to donate a portion of all sales to one of her favorite charities, the Make-a-Wish Foundation.
Julie has also announced that a special music video featuring the recording of the song will be available soon. Visit her official website for more information.