Josh Turner's Dream Comes True With Randy Travis Duet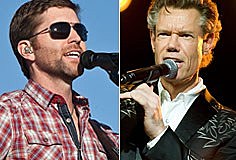 We've all fantasied about what it would be like to work with our idols, and for Josh Turner his dream to sing with Randy Travis is now a reality. The pair collaborated on 'T.I.M.E.,' a tune that appears on Randy's 'Anniversary Celebration' duets album, out June 7. Or at least, Josh believes it will.
"I just hope my song is still on there when it comes out," he tells The Boot with a laugh. "Nah, I think it will be. It's going to be a dream come true for me to be able to have that in my hand. That's something I've been dreaming about for a long time."
And by a 'long time' he means roughly 20 years. "One of my favorite Randy Travis albums is his first duets record, 'Heroes & Friends,' where he was singing with all the greats in country music," Josh says. "Now I get to be on this 25th anniversary duets album, and the fact that he asked me was a big honor, much less actually being able to go sing on it."
While Josh is thrilled to be on the album singing 'T.I.M.E.,' a new song written by Tim Menzies and Roger Springer, he did have originally have his heart set on one of Randy's older tunes.
"My choice was 'A Few Old Country Boys,' mainly because of what it says in the song," he explains. "It makes a metaphor of a younger artist and an older artist singing to each other but what they have in common is that they come from the old school and they're all about the traditional country. The older artist is singing about the younger one, talking about, 'We heard you were a fast train coming out of Caroline.' Randy Travis is from North Carolina, I'm from South Carolina. I just thought it would be cool to have him take the place of George Jones and me take the place of him. In some sense, that's what we've done. For symbolic reasons, ['A Few Old Country Boys'] is the song that I would have chosen, but it was already taken [by Jamey Johnson]."
In addition to the new tune with Josh, Randy also works with Carrie Underwood, Brad Paisley, the Zac Brown Band, James Otto and more. See the full list of tracks here.
Josh will spend the majority of the summer on the road. His next stops are May 20 in St. Petersburg, Fla., and May 21 in Valdosta, Ga. Get ticket information and a complete list of tour dates here.