Jo Dee Messina Introduces Baby Jonah — Exclusive Photo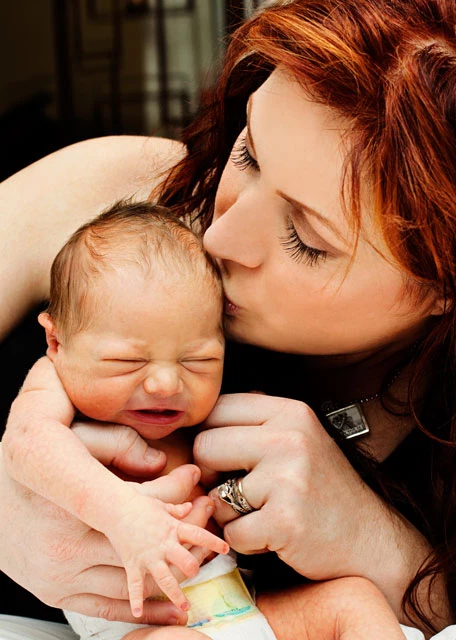 Introducing Jonah Christopher Deffenbaugh! Jo Dee Messina shares exclusively with The Boot this adorable photo of her second son, born Jan. 11.
The 6 lbs., 13 oz. bundle of joy was apparently anxious to meet his family. He came early, as doctors discovered Jo Dee was in labor during a routine check-up. "I had gone to my doctor directly following a photo shoot. Full makeup. Tall boots. The works," Jo Dee writes on her blog. "I was so not planning on having a baby that afternoon."
Jonah joins three-year-old big brother, Noah. The 'Bye Bye' singer's oldest son is already proving to be a very nurturing older sibling, helping to feed Jonah in the hospital and giving his baby brother all the stuffed animals he no longer plays with, Mom reports.
"Noah couldn't wait to hold his little brother," says Jo Dee. "He's so good with him. God has blessed us so much."
Noah and Jonah's dad is Chris Deffenbaugh, the country star's husband of more than four years. "He is so loving with our kids," Jo Dee says of her groom.
The singer has kept fans updated with her adventures in becoming a second-time mom through her personal blog, FumblingMom.com. In addition to helpful parenting tips, the site offers exclusive photos, funny anecdotes, personal stories and more.
"The most profound realization I had back in 2008 when I became pregnant with my son was, our parents were just people trying to get through life, and then we showed up," Jo Dee tells The Boot. "Parents don't have all the answers. We're all trying to figure it out along the way. Being a celebrity doesn't make it any easier. I have the same questions, frustrations and triumphs (potty training) as any other parent out there. This blog is to share my journey and maybe give you a chance to laugh at the whirlwind life of parenthood, relationships and every other thing life may throw my way."
Watch Jo Dee Sing 'Carry Me'
if(typeof AOLVP_cfg==='undefined')AOLVP_cfg=[];AOLVP_cfg.push({id:'AOLVP_us_1057616873001′,'codever':0.1,'autoload':false,'autoplay':false,'playerid':'61371447001′,'videoid':'1057616873001′,'publisherid':1612833736,'playertype':'pageload','width':476,'height':357,'videotitle':'Test','bgcolor':"});