Dierks Bentley Discovers a New Way to Fly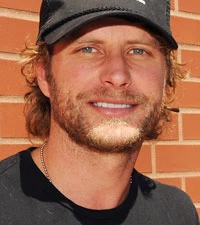 We all know the saying about boys and their toys. Well, now, Dierks Bentley has a new toy to play with. But this one's not a guitar or a pick-up truck — and when he wants to park it, he's going to need a little extra room. Dierks, who has his pilot's license, was in Duluth, Minn., late last week to pick up his custom-designed Cirrus airplane at the company's plant. (See a photo of Dierks and the Cirrus staff posing with the aircraft here.)
According to the city's News Tribune, Dierks underwent extensive training for the 2012 SR22T Xi while in Duluth from Tuesday through Friday morning. The "Xi" in the plane's name refers to Cirrus' Xi personalization program. Plane owners can work with Cirrus staff as the aircraft is built, so that it meets their individual needs and specifications.
"We are grateful for each of our customers, and that Dierks is also a country music star is an added bonus," said Cirrus' executive director of marketing Debbie Breemeersch. In July, Dierks also performed at a Cirrus event in Oshkosh, Wisc.
The "Tip It on Back" singer isn't the only Cirrus owner in country music. Tim McGraw has one, too, and talks about the aircraft in this promotional video.
While we don't know any of the specific details on how the plane was customized for Dierks, we wish him happy — and safe — flying. Dierks, who was in Nashville last week to host the ACM Honors evening of awards and music at the Ryman, continues on tour. Keep track of his upcoming shows here.

Watch Our Day in the Life of Dierks Bentley Video
#fivemin-widget-blogsmith-image-586047{display:none;} .cke_show_borders #fivemin-widget-blogsmith-image-586047, #postcontentcontainer #fivemin-widget-blogsmith-image-586047{width:475px;height:351px;display:block;}

try{document.getElementById("fivemin-widget-blogsmith-image-586047″).style.display="none";}catch(e){}
Watch Dierks' Video for "5-1-5-0″