Clint Black Song Makes Short List for Academy Awards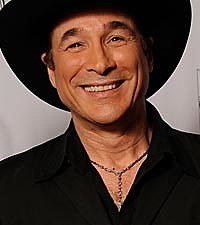 Clint Black has made the short list of nominations in the Academy Awards' Best Original Song category, for a song in 'Unbeaten' — a micro-budget documentary about wheelchair racers. The song, 'A Better Life,' written by Clint and Rhen Boyer, is the first-ever Oscar recognition for Clint, and tells the story of a man who never gives up or settles for second best while searching for a better way of life.
Being on the Academy's "short-list" means Clint and Rhen have made the first stage of selection for the awards. We'll know if they score an actual Oscar nod when the nominations are revealed on January 25. The 83rd Annual Academy Awards are set for February 27 at Los Angeles' famed Kodak Theater.
Hosted by Dan Aykroyd, 'Unbeaten' is an inspiring true tale of 31 paraplegics who make their way in wheelchairs and hand cycles over a six-day period through Sadler's Alaska Challenge, known as the toughest road race in the world. The film follows these inspiring wheelchair athletes through the course, which runs 267 miles through the mountains of Denali National Park, rising over 10,000 feet in elevation at points.
"We couldn't be more proud of this recognition and of Clint's great work for the movie," says producer Gregory Strom. "His support has been a huge part of the success of 'Unbeaten,' and Polaris Global Media's commitment to raise the profile of disabled athletes and persons worldwide."
Clint has been involved in plenty of charitable endeavors over the past year. He joins fellow Texans Miranda Lambert, LeAnn Rimes, Jewel, and other artists in a new first-ever Texas Music Calendar to benefit St. Jude Children's Research Hospital. He's also one of several artists featured in an Andrew Zuckerman book titled 'Music.' The book features 50 photographs of and essays by a wide range of musicians and was produced in collaboration with Archbishop Desmond Tutu. Part of the proceeds from the project will go to charities nominated by participants in the project.