Chris Stapleton: 'I Don't Feel Like Songs Should Be Hoarded'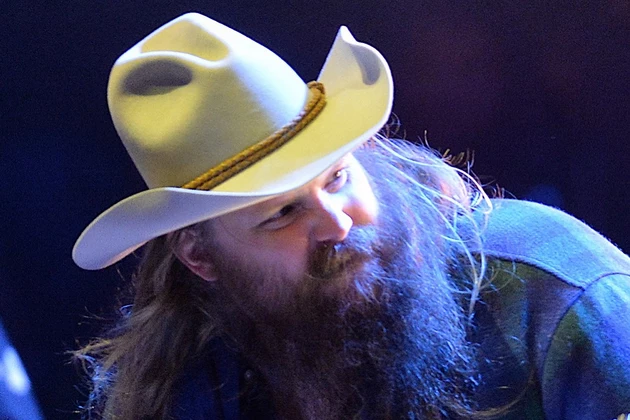 Chris Stapleton has recently earned himself fame as a country artist, but before the release of his debut album Traveller and his big wins at the 2015 CMA Awards, Stapleton was a well-respected songwriter, penning tracks for Tim McGraw, Luke Bryan, George Strait and Adele. But now that the singer-songwriter is seeing success as an artist, he says that there is something he misses.
"I like the old days when, if I wrote a song and I recorded it, it didn't mean somebody else couldn't record it," he tells GQ. "… If I wrote a song, it doesn't bother me to re-record it, and it doesn't bother me if somebody else records it.
"I don't feel like songs should be hoarded. I don't feel like one's tainted if somebody else does it," Stapleton continues. "That's the mark of artistry — take a song that's maybe even a really popular song and do it your own way. I think that's cool."
Stapleton — along with artists such as Stugill Simpson and Jason Isbell — is ushering in a new era in country music, and while he may not identify stylistically with a lot of today's popular country artists, the singer isn't about to hate on them.
"I don't think anybody wants some kind of good-and-evil scenario with music. I don't. I think that's something that's fed to us a little bit," he explains. "To me, we need all of it. If there's one kind of music that makes somebody happy, how is that a bad thing? And if there's another kind that makes somebody else happy, how is that a bad thing?
"I don't get why anybody cares about what they don't like so much. You know what I'm saying? If you don't like sushi, you don't go around all day telling everybody how much you hate sushi, and telling everybody who likes sushi to hate sushi. It's goofy. Why would you do that? Why would you want to dictate somebody else's taste or happiness?" Stapleton adds. "Music is supposed to be joyful and move people, and however that gets accomplished for different people, it's all good. I can't get into a battle."
Top 10 Country Music Moments of 2015
Learn the Story of Chris Stapleton's "Nobody to Blame"