Country Stars Get Sentimental on Valentine's Day
Valentine's Day — the holiday of love — is in full flower, and we have polled some of your favorite country artists to talk about their thoughts and feelings about love, romance and marriage. Which stars are romantic? Which ones aren't? Who has a good reason to celebrate this year? Check our exclusive celebrity Valentine's stories below.
Brad Paisley wrote his hit, 'She's Everything,' about his wife, actress Kimberly Williams-Paisley. He says that she — and now sons Huck and Jasper — are everything to him. "It's my wife, of course," Brad says of his priorities. "In life, certainly, she's at the top, and there are a lot of things that can fall under that … really it's family and people you love. That's everything. There's just nothing else that matters."
This will be the fourth Valentine's Day as a married couple for Keith Urban and wife Nicole Kidman. The two have been through quite a bit over the past few years, and come out of it seemingly more in love than ever and with two daughters, as well. "It gives me a tremendous gratitude that she feels loved," the romantic singer says. "That gives me a great centering on a daily basis that she also feels loved by me."
Alan Jackson recorded 'It's Just That Way' for his 'Freight Train' album, because the song reminded him of the relationship he has with his wife. "It's one of those that I wish I had written," the singer-songwriter admits. "I liked it because on a more personal level, it sometimes reminds me of Denise and I. We've been together forever and sometimes we just think back of where we started and how it all happened, and it was just like it was supposed to be; I was supposed to be with her and vice versa."
Blake Shelton may be a guys' guy, who hunts, drinks and sings about his 'Hillbilly Bone,' but if you check out his latest single 'Who Are You When I'm Not Looking' and the way he looks and talks about his fiancée, Miranda Lambert, you know the singer is 100% head-over-heels in love.
"Being able to look at Miranda, and know everything about her — know the good times, the bad times, every habit she has and everything she does, and I don't have a problem with one thing about her," gushes the groom-to-be. "I can find something in everything she does that says that she's awesome. I'm constantly in awe of the things that she does and she says and the way she looks. It doesn't get old to me. I don't get tired of it. I know that's a lame way to talk about love, but when you talk about being in love with somebody, as I've gotten older, once you get past those early days when you cry when they go to the grocery store [laughs] and you don't want to sleep so you can stare at them. Once you get past that and you still feel the way I'm talking about, to me, that's when it gets good."
Blake does have a few words of advice for any women who have waited until the last minute to buy a Valentine's Day gift for their man. "I'll tell you what, every man wants for Valentine's Day – and women, I don't give a crap whether you like it or not. If you think, 'Well, I want to put some thought into it.' Give a guy money. Give a guy cash. I don't care if it's five dollars, 10 dollars, 20 dollars. We don't want you all buying us socks or cologne or ties. Give us some money, and we know what we want. We want beer and we want lighters, even if we don't smoke. We like to buy crap like that."
His fiancée is cut from the same cloth. "I'm not real romantic," Miranda says. "I'm really not. My romantic side is more simple. I don't like care really about flowers, you know. Bring me some chocolate and that's a different story. [laughs]"
If Mike Fisher wants to impress his new wife, Carrie Underwood, he might also want to present her with a big box of chocolates for Valentine's Day. "Chocolate is every woman's friend. In their time of need or their time of happiness or in their time of sadness or madness," Carrie says. "Chocolate is my friend. I'm a milk chocolate girl myself. But anything with caramel in it? [sighs] White chocolate's good, too. Can't beat some good white chocolate."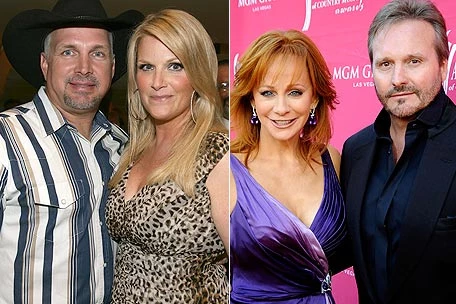 One guy who is definitely a romantic is Garth Brooks, who puts wife Trisha Yearwood up on a pedestal every day in his words, and most importantly, his actions. "I'm not a coffee drinker, I just never have [been]," Garth reveals. "But every morning, I fix her coffee. She would say that would be the most romantic thing. And it doesn't matter if we got in at five o'clock from L.A. that morning and we're sacked up, I still get up in the morning and I fix her coffee, because it's an honor to fix her coffee. So, that's probably what she would say is the most romantic thing I do for her, even though some people might not think that's romantic."
Reba McEntire and her husband-manager Narvel Blackstock will celebrate their 22nd wedding anniversary this year, and she has said the secrets to her marriage are "Respect, faith, love, trust and lots of patience." The two met when he became a member of her band, playing steel guitar, and then later her manager. They fell in love unexpectedly and were married in Lake Tahoe, Nevada on June 3, 1989. Their first Valentine's Day as husband and wife featured some pretty special gifts, well, one pretty special gift and one painful, yet thoughtful gift. "Narvel and my first Valentine's Day together, he gave me something really special," Reba recalls. "It was a diamond tennis bracelet. We just bought our place in Gallatin [Tenn.] and we were trying to clear it, and he said, 'I could do that!' And so I got him a chain saw for Valentine's Day. Well, that went over like a lead balloon, because the chain was on backwards, and he worked all day long trying to trim up some of the low branches. His shoulders and arm and neck were killing him, and the next day he went and hired people, professional people to come and clear the property. I don't know where that chain saw is today, but I still got my tennis bracelet."
Rascal Flatts' Gary LeVox said it was love at first sight when he met his now-wife, Tara. "I was actually singing backup for a gospel artist, and we had done a show in Decatur, Ala.," Gary recalls. "A lady came up and was standing there with her daughter, and we were just talking. And I knew at that moment that I was looking at my future wife. It was the weirdest thing ever."
Kenny Chesney has had his share of sexy girls in his music videos, but what does this bachelor find sexy? "I think girls that wear ballcaps and drive a truck are sexy," the entertainer admits. "Girls that can drive a five-speed are sexy. Girls that can play guitars by themselves are sexy. Just a lot of things. It's hard to put a finger on it. I think people that are career-oriented and driven, that's sexy to me. I think sunsets are very sexy. I'm a sucker for sunsets."
Faith Hill and hubby Tim McGraw met at the right time in their lives during 1996's Spontaneous Combustion tour. It wasn't hard to make the choice to spend the rest of their lives together, but it probably would have been if they had met a couple of years earlier. "We're friends, and we're married," Faith says. We love each other, and we do happen to like each other a great deal. [laughs] But at the time we met, our careers were both moving forward quickly — kind of going through the same things at the same time, and we were able to put it all into perspective as opposed to having that much earlier in our careers when you're always working and out there. It's hard to make a choice about what is right and what isn't, and at that time we were able to make each other a priority."
Martina McBride has been married to recording studio owner John McBride for more than 22 years, and she has some pretty sound advice on maintaining a happy relationship. "It's important to find someone that you really like as well as love," she says. "When the infatuation runs out, the first phase of the relationship changes. You really have to be able to say 'I like to hang out with you. Let's keep hanging out.' And mutual respect, [you need] someone who is a good partner. It's really just [getting] lucky." Martina's hubby is pretty romantic and likes to surprise his superstar wife. "We came home one night from being out, and we have a second story front porch that we sit out [on] every night and talk. We came home, and the whole thing was filled with flowers and a bottle of champagne and actually three books of short stories. He said, 'I just want us to sit out here and read to each other.' [laughs] It was so beautiful. He is so multi-dimensional. He's a romantic. He's funny, and he's strong, and he's a good person. He is an inspiration to me on every level."
Sara Evans was introduced to husband Jay Barker (former championship quarterback for Alabama) by a mutual friend who gave each of them the other's email address. Their first meeting in person, they threw around a softball near her former home in Franklin, Tenn. So, when was the moment she knew she was falling in love? "I loved him from email one. That was our first contact," Sara tells The Boot. "I had put the kids to bed, and I was cleaning up the supper dishes, and it was literally like something made me go to the office and email him in the middle of doing the dishes. I just reached out to him and introduced myself and he emailed me back within five minutes. We went back and forth, and I asked him if he texted, and he did. So, we started texting, and then it's always that nervous moment when you decide to talk on the phone for the first time … but I was already falling in love with him over text and email, because he's so freaking funny. We just realized that we had everything in common, and then we met for the first time in person and that's when I really knew, because he was stunning. He is this big football player and that was when I really, really knew, and then when he saw me throw a softball, that's when he really, really knew. [laughs]"
James Otto says he is very romantic when it comes to doing things for his wife, Amy. "I make breakfast for her," he explains. "I'm a big omelet guy, a big egg guy. I love doing that stuff. I love to cook. She hardly ever has to cook. If there's going to be cooking at the house, it's me that does it, and I actually enjoy it. So, she gets breakfast in bed quite often, so she can't really complain that much then."
Trace Adkins penned and perform 'The Rest of Mine' at his May 1997 wedding to his wife Rhonda, and he says it is probably the most romantic song he has recorded. "I was commissioned to write a love song by Rhonda, a song that I would sing at our wedding. That's the best I could do at the time." He pulled the title after watching the John Travolta movie, 'Phenomenon.'
One of country music's most eligible bachelors knows what love is … and what it isn't. "Love isn't 50/50. That's what a lot of people think — they think that when you're in love with someone, it's a 50/50 thing, I give this, you give that," Jake Owen says. "My mom always told me, 'The reason that your dad and I have been together so long and we're so happy is some days I gave 90-percent of the effort and he gave 10. It was just what he was going through at the time. Or I was not happy and your dad would have to do all the effort and do a lot of the things. But it's a partnership. Love is being able to say goodbye and then not stop thinking about them for the rest of the day."
Montgomery Gentry's Troy Gentry has been thinking about the meaning of love in the days leading up to Valentine's Day, and he's not sure you can really define it. "It's just something that you feel emotionally inside your heart," he tells The Boot. "I don't think that you're able to define exactly what love is. It's something, though. It's an emotion, something that you feel and something that you share with another human being. It's just a partnership and a companionship and something felt between two people that [is] indescribable."
Josh Turner reveals how he and his wife, Jennifer, celebrate the year's most romantic holiday. "Valentine's day is always a special time, especially for couples," he says. "My wife and I, we always try to just really try spend some time alone on Valentine's Day. We'll give each other cards and gifts and flowers and all that kind of stuff, but I think the most important thing is just really spending that time together and just cherishing the relationship that you have."
Before tying the knot with wife Cassady, Dierks Bentley says Valentine's Day wasn't always a pleasant holiday for him. "As a single guy in the past, if you were dating someone, it's that holiday that comes along where you have to really like stamp out on paper exactly where the relationship really stands," the performer recalls. "You don't want to undershoot it because then you'll be in trouble, if you don't give the right present or don't say the right things, you're gonna be in the doghouse. But then if you overstate your hand, then you're moving the relationship way faster than you actually want to."
Justin Moore has known his wife Kate since they were in high school, and he took her back to the first place they met to propose. "We met on the beach when we graduated high school we were on senior trip, her friends and my friends were from different parts of the country. I'm from Arkansas. She's from Louisiana," Justin recalls. "So, I thought, 'Man, that would be cool to propose to her on the beach, because we had not been back to the beach since we met each other.' Five or six years later, here we are. I got her family to go down, my family went down without her knowing. We rented a house, we drove down, we walked out on the beach, did the whole bit — 'Will you marry me?' And there just happened to be fireworks going off in the background. I should have [taken] the credit for that, for setting that up, but I didn't."
Billy Currington is known for his sexy, gravel-laced voice and smooth moves. However, when he was in grade school, he really did not have what you would call "game" with the ladies. "I remember my first girlfriend. I was in first or second grade, and I remember on Valentine's Day my mom saying, 'You've got to get your girlfriend something, and you've got to go give it to her.' I'll never forget it. I got her a box of chocolates, and I remember going to her classroom, knocking on the door and getting her to come to the door. I handed it to her and I took off running. That was my very first Valentine."
Easton Corbin tied the knot with his wife, Briann, in 2006, and one month later, the newlyweds moved to Nashville. While he doesn't consider himself a romeo in the romance department, he did surprise her with the proposal. "It wasn't real romantic, I can tell you that," the singer tells The Boot with a laugh. "Actually, I proposed to her in her bedroom. We were both in college, and she kept after me about proposing to her. Finally, I said forget it, I'll just do it now. Of course, I still get grief about that, 'Why didn't you take me down to the river or something and propose? In my room?' [laughs] So, it wasn't real romantic believe me … I was going to do it when she least expected it, and that's what I told her."
Chuck Wicks has got to be one of the most romantic guys out there, or he's feeding you women a bunch of baloney. He gave us some tips on how to be romantic on Valentine's Day. "It's just all about that intimate setting, dark light, real dark, candlelight and the chocolate-covered strawberries," he details. "It's always good when you can make dinner for someone. Cooking dinner as soon as they get home from work. Instead of going out and buying a card, write your own card. Do things from the heart and just all your attention is on your woman, the whole night. It should be like that every day, but for that special night, kind of go overboard."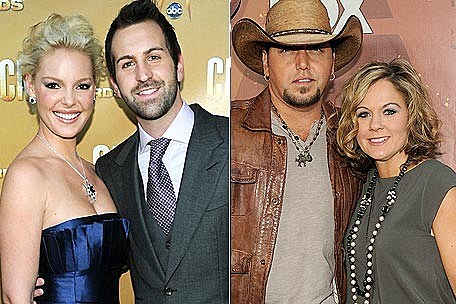 Josh Kelley met his beautiful wife, actress Katherine Heigl ('Grey's Anatomy,' 'Knocked Up,' 'The Ugly Truth'), on the set of his 2005 video for 'Only You.' "I didn't hire her. Somebody else did. Somebody else at the label hired her to be the leading lady," Josh tells The Boot. "I always joke that I got her at a pretty low rate, because she didn't hit big yet. I got her for like 20-grand, which is a pretty good buy, probably the best deal I've gotten in years. [laughs]"
What was it about the tall, attractive blond that caught the singer's eye? "It was the personality and she drew me in with that smile, for sure," the 'Georgia Clay' singer explains. "That she was fun to talk to. She is a very smart girl, very well-read, and it was always such a great conversation, too, and that meant a lot to me, because pretty's only pretty for so long … We just had this connection sometimes undefiniable, but I think it's the fact that we had such good time together. I made her laugh and we communicate well … she's my girl, and I don't want to be with anybody else, and I don't think she wants to be with anybody else either."
Jason Aldean says he's not a romantic, but the way he talks about the love he feels for his wife, Jessica, and two daughters makes him a liar. "Romantic? Probably not. I'm not the kind of guy that sends flowers and comes home and has a bath run with rose petals in it — that's not really my thing," explains the Georgia native. "I'm a pretty affectionate guy, but not really a romantic. My wife gets on to me a lot for that. Maybe the older I get, I'll get in a different frame of mind and start thinking that way a little more."
Joe Nichols, who wed his wife Heather in 2007 — 12 years after they first met, knows what it is to love someone. "Love is, gosh, it's more than just one little bitty thing," Joe discusses with The Boot. "I think a person that makes you smile when they're not in the room is important. That's a good indication of loving somebody. Anything that they do that is bad. You could think of anything and everything that they've done that is bad or wrong or terrible, and you still smile, that's love. When you think of a person more than yourself. When you think of somebody else's needs, what would it mean to you not to get what you want, so they could get what they want, that's love. Being in love, loving somebody means giving somebody what they want, sacrificing yourself for them."
"Love is a lot of different things, but I feel like one big part of it is an action, not necessarily just the feeling of love, because that's gonna come and go. It's an action," Lee Brice tells The Boot. "It's a decision to go, 'Alright, I decided when I say I love you, it means I'm sticking this out.' That's why they say, 'For better or worse,' because it's going to get worse, it's going to get better. So, at that point, love becomes a real tangible, physical decision and commitment and action. Loving them means sticking it out and working through it and giving them what you want even if you don't agree or you're tired or whatever it might be. Doing something for somebody else is an action. That's love."
"When I think about love, the one word that comes to my mind is unconditional," says The JaneDear Girls' Danelle Leverett. "I could go down the list of examples of unconditional love that I have in my life, just a few of them being my family, my friends, The Lord. They love me — my good, my bad, beautiful things about me, the ugly things about me. They love me unconditionally and it's forever. It's not something that's just going to stop tomorrow, if I screw up, because I probably will. The people in my life that I love, I try hard to also love them unconditionally."
"When I think about the word love, I think about support," explains the duo's Susie Brown. "I think it's the actions that make it true just by always telling you when you're wrong. Even though you might not want to hear it, it's out of love that they're telling you certain things. I think it has no fear of saying wrong things or this or that, because it always has your best interests, so that's what I would say love is."
And last but not least, there's country heartthrob Frankie Ballard, who isn't so thrilled about the holiday. "I don't care much for Valentine's Day," he reveals. "Can I just make a donation to Hallmark or something? Does that get me off the hook?"
Brad Paisley's 'She's Everything' Video